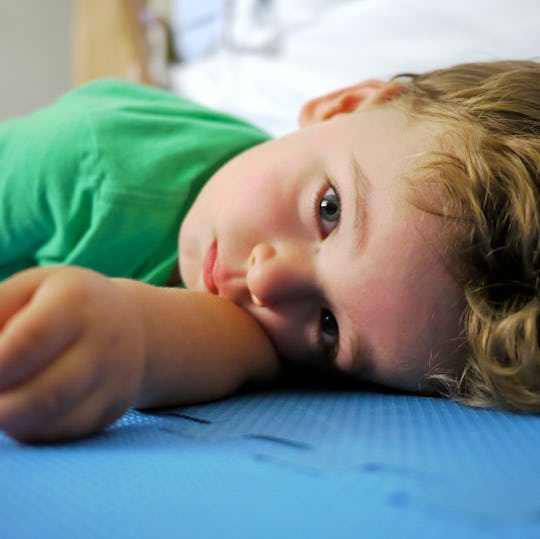 10 Stupid (Yes, I Know We Don't Say "Stupid") Reasons My Toddler Just Got Out Of Bed (For The Fifth Time Tonight)
Ah, bedtime. That wonderful time of the day when my child has exhausted every inexplicable ounce of energy he has in his tiny body and is ready for sweet unconsciousness. He gets to dream sweet baby dreams, and I get to sit on the couch and binge-watch a few episodes of Orange Is The New Black with an oversized glass of wine in my hand. It's a win-win. It's a fresh start. It's a chance for me to think of (and accomplish) all the things I have to before a brand new day begins, while my child is sleeping so that I can... you know... actually do them.
Well, it's usually that easy. And by "usually is" I, of course, mean never is. Ever.
Bedtime is my Everest. Bedtime is the unstoppable force to my immovable object. Bedtime is a war of the wills, in which a toddler and an adult go toe-to-toe in subtle, understated battle that (hopefully) ends with a passed out toddler in bed. It is also the catalyst for my son's amazing imagination, because the reasons he conjures up as to why he just absolutely has to get out of bed are, at the very least, impressive. 
From needing a seventeenth glass of water to inflicting what can only be described as emotional terrorism by way of big eyes and sweet, soft-spoken words, my son has become a commander of bedtime aversion. I'd be proud of his accomplishment if it wasn't so damn frustrating. 
Anyway, you be the judge but I'm telling you, the kid's got skills for days. Here are a select few of the almost innumerable reasons why my child will claim to legitimately "need" to be out of bed (for the 17th time tonight).