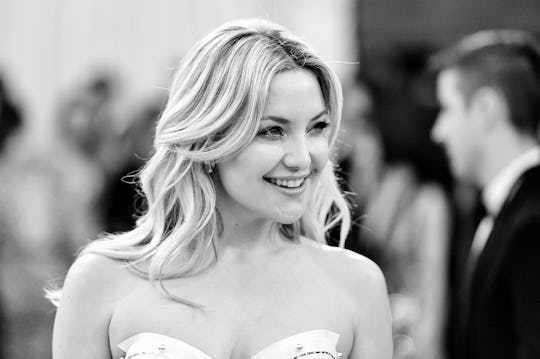 Mike Coppola/Getty Images Entertainment/Getty Images
10 Surprising Facts About Kate Hudson That Will Make You Love Her Even More
Kate Hudson is one busy woman. She's a successful actress, a clothing entrepreneur, and a mom of two boys who is now pregnant with her third child (and her first baby girl). It seems like she's everywhere, but there are still a few things to learn about this multi-hyphenate mom. Like these 10 facts about Kate Hudson that show she's as lovable and fascinating as she seems.
Many are already familiar with the actress' varied career, which has taken her from dramas to comedy to romance. She had some early roles in a few independent films, but really broke into the public eye with her stellar performance in 2000's Almost Famous, for which she won a Golden Globe and was nominated for an Oscar, according to her IMDb page. She later appeared in some of your favorite romantic comedies, like How To Lose A Guy In 10 Days and Raising Helen, before taking only her third TV role as a hard-bitten dance teacher on Glee.
But her life off-screen is just as interesting. Her parents, Goldie Hawn and actor/musician Bill Hudson divorced when Hudson was a baby, and she was raised by Hawn and her partner Kurt Russell, according to E! News. She has always considered Russell to be her only father figure, and has virtually no relationship with Bill Hudson, according to People.
Hudson has been married once, to singer Chris Robinson, with whom she had one son, according to USA Today. Another relationship, with singer Matthew Bellamy gave her a second son. She told the TODAY show that motherhood is one of her strengths, calling it the thing she is best at. "The best thing I probably do is — I'll say I'm a pretty darn good parent. I got good kids," she once told TODAY's Matt Lauer. She now has the added excitement of becoming the mother of a little girl. "My kids, Danny, myself and the entire family are crazy excited! A little girl on the way 💕," she captioned an Instagram post that revealed her pregnancy and her baby-to-be's sex.
With all of that said, here are just a few more interesting facts you might not have known about this American sweetheart.
1. Her Middle Name Is Garry
In 2014, she explained her unconventional middle name to the Daily Telegraph. Her mother's favorite uncle was her Uncle Garry, who passed away just before Hudson was born, she told he news outlet. She explained, according to the Daily Telegraph, that she loves her unconventional middle name. "I love it…I like how androgynous it is," she said in the interview.
2. Her Brother Oliver Had An Interesting Nickname For Her As A Kid
She was named one of People magazine's most beautiful people in 2008, but her brother has always been there in her life to keep her humble. It started when she was young, as she told People. "My brother Oliver called me Hammerhead because my eyes were on the side of my head. They've kind of grown into where they're supposed to be now."
3. She Can Make Wine
In a 2015 interview, Hudson told Wine Enthusiast that she grew up with parents who were fans of the drink and who took their kids on wine trips. After her stepfather, Kurt Russell, started making wine, he encouraged her to try. As she told Wine Enthusiast:
I did have the realization of how creative the process really is. But what's very different from making movies is that everything in wine is connected to nature. Your grapes can only be as good as your year. That is one of the things that makes it very special and incredibly unique
4. She Doesn't Fit Into A Mold
Hudson told People in 2008 that when she grew up she was both a tomboy and a girly girl. "I was the girl with the dress on who always came back in the house filthy with scrapes and bruises," she told the publication. "But I was always very girly. I had to be able to twirl so that my underwear showed."
Even today she's still defying stereotypical labels. She's known for her more bohemian style but she told Daily Telegraph she also loves high fashion. "I love talking about it, I love what it feels like to put on a pretty dress and I love seeing the workmanship that goes into great high fashion," she told the publication.
5. She's A Bit Of A Science Nerd
In 2014, Hudson told The Zoe Report that she's fascinated by neuroscience and attributes the interest to her mom. According to The Zoe Report, she said:
I am completely obsessed with the science of the brain. It's something my mother has passed on to me and that I'm passionate to learn about.
In fact, she even made an AMSR — Autonomic Sensory Meridian Response — sleep video for W magazine, according to the New York Post. AMSR involves sounds like crinkling paper, fingernail tapping, and low-pitched soft whispers which are said to help some people fall asleep.
6. She Can't Watch Herself On Screen
In an interview with the Hudson Union Society, the actress explained why she has such a tough time watching her on-screen performances. She said:
When you're doing it, you're not thinking about anything like that… On a film where you go and you show up and you put your all into something and then it goes to the director and the editing room…you don't know what to expect, you don't know what take they're going to use…The whole experience is just completely anxiety ridden for me.
She also admitted in the same interview that there are some of her films which she chose not to watch at all, though she didn't specify which ones they are.
7. She's A Certified Scuba Diver
For her role in Fool's Gold, in which she co-starred with Matthew McConaughey, she got her scuba certification on the Great Barrier Reef in Australia, according to People. "I carry my certificate around with me in my wallet," she once told People.
During another interview for the film, with writer Brett Martin, she explained how proud she was to pass the course. "For me it was a real accomplishment because I was so terrified of it. But now, I just love diving," she said.
8. She Believes In The Afterlife
On British talk show Chatty Man in 2014, Hudson shared with host Alan Carr that both she and her mother, Goldie Hawn, can tap into the afterlife, according to E! News. She explained, according to the news outlet, "It is not really seeing, it is feeling a spirit. A fifth energy. I believe in energy. I believe our brains can manifest into visual things."
9. She's A Bestselling Author
It almost seems like Hudson could have had another career as a fitness guru. Well, she pretty much does. She co-owns a clothing company that designs and sells active-wear, and she's written a bestselling book called Pretty Happy: Healthy Ways To Love Your Body. In her book, according to Redbook, she urges people to listen to the body because it will tell us what it needs. "We don't have to force ourselves to eat a certain way or exercise a certain way," Hudson wrote in her book. "We work with the body, not against it."
10. Her Go-To Stress Release Is Dancing
In 2016, Hudson told SELF that dancing is the thing that clears her head. She loves heading to a studio to dance to jazz, but equally enjoys just jamming out alone at home. "Sometimes I'll lock myself in a room and dance. I'll turn music on as loud as possible and just get weird!" she told the magazine at the time. Apparently nowhere is off limits for an impromptu dance party; in 2015, she filmed herself dancing in an airport with her son Ryder.
Hudson certainly seems to be a master of reinvention while also able to keep her feet on the ground and her family running smoothly. With her third baby on the way, many wishes for continued good things for one of Hollywood's most glamorous, yet totally down-to-earth moms.