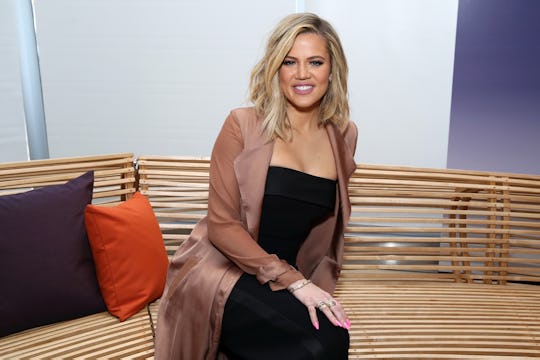 Cindy Ord/Getty Images Entertainment/Getty Images
10 "T" Names For Khloé Kardashian's Baby, Because Fans Can't Wait For Her Arrival
The news of Khloé Kardashian's pregnancy broke in September, and now names for her soon-to-be little one are surfacing, according to the Evening Standard. Eager fans are suggesting names for Khloé's baby that start with both Ts and Ks after her response to a fan's tweet on Monday. And some of them are pretty brilliant.
Khloé first made the announcement on her Instagram account that she and her boyfriend, Tristan Thompson, are expecting in December. She posted a photo of both her and Thompson's hands on her baby bump. "We are having a baby!" she wrote. "I had been waiting and wondering but God had a plan all along. He knew what He was doing. I simply had to trust in Him and be patient." She also thanked Thompson for making her a mommy and making the experience "even more magical than [she] could have envisioned."
Flash forward two and a half months and she's taking to social media again to get fans' recommendations on baby names.
The Kardashian clan is known for taking baby names seriously. That's why one Twitter user asked Khloé, "@khloekardashian are you going to follow tradition and name your baby something beginning with a 'k' ? #KUWTK"? To which Khloé responded that she's thinking she may go with T names this time instead.
Khloé tweeted: "I think a T but a K is an option as well. That's as far as I know."
"Kim kourt and kylie don't follow the tradition," one Twitter user wisely pointed out. "Probably going to be thunder or something or kristan or kleo," one wrote. "Name her something normal and traditional. Not like Italy or Spain or nightmare or wind. Just a name. Like Elsie or Emelia," another said.
Fans only recently found out that Khloé and Thompson will be welcoming a baby girl. The Keeping up With the Kardashians star broke the news on Sunday's episode, according to Mirror. While on a trip to San Francisco with sisters Kim Kardashian and Kourtney Kardashian, Kylie Jenner called Khloé to deliver the results from Khloé's doctor, E! reported.
"You're having a girl!" an excited Kylie told Khloé over the phone, according to E!. "You're lying!" Khloé responded. "I'm not lying," Kylie squeals. "I'm so excited for you, Khloé!"
"Khloé has a lot of names in mind," a source reportedly told Hollywood Life. "Khloé's also talking about naming the baby after Tristan's mum, Andrea, or 'Andy' for short."
But fans have some other "T" names in mind for the couple, too, in response to Khloé's tweet.
Take a look at some of the most popular suggestions.