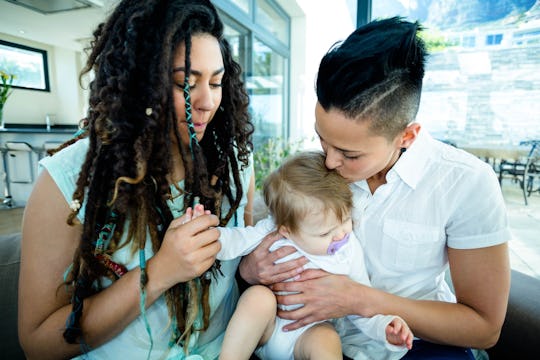 WavebreakMediaMicro/Fotolia
10 Things Every Couple Should Do So They Feel Like Themselves Post-Baby
Postpartum life can be pretty damn complicated. While adjusting and living up to the responsibilities of a parent, you're also healing, dealing with rogue hormones, and (if you have a partner) continuing to nurture your relationship. In other words, post-baby life requires balance, patience, and flexibility — all things I'm terrible at. So when I realized there are things every couple should do so they feel like themselves postpartum, I'm not too sure my partner and I did enough to keep our relationship happy, healthy, and thriving. Caring for my newborn was exhausting and taxing and difficult, to be sure, but I can't help but think back on that time period and wish I had done more — that we had done a little more — to keep the passion (and communication) alive and well.
My first experience with postpartum life was so rough it strained my relationship with my partner. Our relationship was relatively new when I gave birth, and afterwards I was (eventually) diagnosed with Postpartum Depression (PPD). The demands of trying to mother a child who refused to breastfeed, all while dealing with the rise and fall of hormonal surges and never quite feeling like myself, took a toll. Everything I had with my partner before I brought baby our baby in the world was, for the most part, gone. It wasn't just the two of us anymore, so learning how to navigate life as a family of three was pretty difficult.
As a result it took a significant amount of time, for the two of us to feel like ourselves again, but I know some of the important things we did to stay connected were a vital part of keeping our relationship afloat. So trust me when I say I think every couple should do some of the following, especially if it feels like parenting has stolen some of the better parts of your relationship.