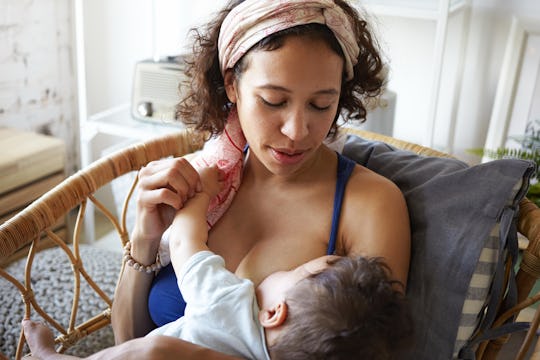 shurkin_son/Fotolia
10 Things I Wish I'd Known About Nipple Pain Before I Started Breastfeeding
Before I started breastfeeding I was told that if I was doing it right, nursing wouldn't hurt. I took comfort in this concept because smug, inexperienced me was convinced that I was going to be one of those natural, mother-Earth baby goddesses who would take to motherhood like a duck to water. I just knew I'd be great at breastfeeding. Then I had a baby and realized there were some things I wish I'd known about nipple pain before I started breastfeeding.
First of all, the idea that if you're "doing it right" nursing won't hurt is laughable at best. I mean, what an absolutely absurd thing to say! Come on now. You're honestly telling me that going from regular nipple usage to an infant inexpertly chomping on them every hour or so for the foreseeable future isn't going to at the very least irritate your nipples? Seriously?
I will tell you this right now, and as an extremely pro-breastfeeding advocate: if you choose to breastfeed your baby, you will almost certainly experience some nipple pain at some point (and probably most of it early on). Certainly there are things you can do to mitigate or even eliminate that pain and you shouldn't write off persistent, toe-curling hurt every time you feed your baby as "normal" or the "price of doing business." But in nursing two children for quite some time I've learned a thing or two, and some of my anecdotal, maternal wisdom might be useful to keep in mind.