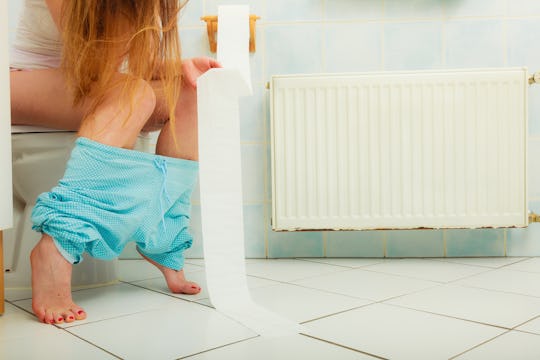 Fotolia
10 Things No one Will Tell You About That First Postpartum Poop, But I Will
Moms-to-be, I know you might not be used to talking with a stranger about bowel movements, so it probably makes you a bit uncomfortable. Trust me, after a few years, and more than a few diaper blowouts and potty training accidents, you'll probably be so unfazed by number two you will initiate discussions about it.
Let start at the beginning of motherhood. I am going to tell you about that first postpartum poop. Not the sugar-coated, "You may have a bit of discomfort" polite version of what happens, but the real, raw, unfiltered truth. To be honest, your first postpartum poop will really suck, or more accurately, really blow (pun always intended).
It's horrible.
I am not trying to scare you, but you deserve to know the truth. It's hard (literally) and also literally a pain in your ass, vulva, perineum, and stomach. My first postpartum poop wasn't just painful, it was scary, because no one told it would be so horrible. Plus, the pain medication they gave me for my torn labia, and the general discomfort of expelling a six-pound baby out of my vagina, made things so much worse. As as result I took more medication, which started a vicious cycle and seriously compounded the issue. Crapping after childbirth hurt, a lot. It didn't come easily or smoothly and it made my butt bleed, just three days after getting stitches on my vulva. Not cool.
Why didn't anyone warn me?
People rarely talk about the bad or gross parts of motherhood, except me, because I have no boundaries. Kidding. Honestly, I want you to know what to expect and to have a few ideas about how to make it a little less, well, sh*tty. So,if you think you can handle the truth (and even more bad puns), read on for ten things no one else will tell you about that first postpartum poop.