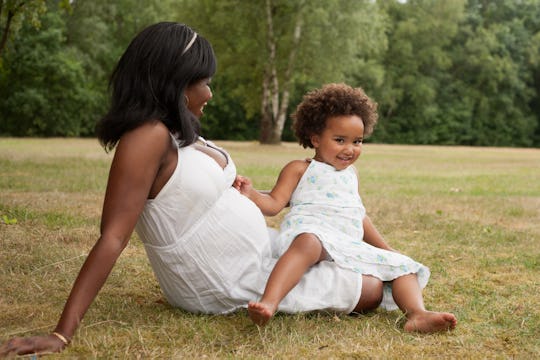 Fotolia
10 Things People Feel Fine Saying To Women During Their Second Pregnancy
I don't know what it is about a pregnancy announcement that pulls the "weird" out of some people, specifically when it's not your first baby but, instead, your second. Things people feel fine saying to women during their second pregnancy are often inappropriate, off-the-mark, and sometimes downright insulting. What happened to that simple, "Congratulations" or the, "I'm so happy for you" I received during my first pregnancy? The baby was created with my partner in (technically) the same way, so why is everyone acting so weird about it? I don't remember asking for the unsolicited advice anyway and yet here we are (again), only this time I'm more easily offended because experience.
During my first pregnancy, I fully embraced all the comments and suggestions people made because I'd never been a mother before. I wanted their advice. Sure, I would have discovered the ins and outs of putting a stroller together or all the horrible things that would happen during child birth at some point and — as all parents do — through experience. However, during my first pregnancy I was up for any and all "heads starts," I could possibly get. Something changed during my second pregnancy though, and I didn't need, or want, people's good-willed interjections.
The second pregnancy was familiar. I knew what to expect, I knew how my body would handle things, and I knew the end product would be a baby I'd have to help keep alive. While no two pregnancies are the same and a second pregnancy presents a slew of unique challenges all on its own, I'd already done it once so I knew my partner and I would figure it out. What I couldn't figure out, however, were the type of things people said to you during your second pregnancy. Things that still echo in my head and to this very day.