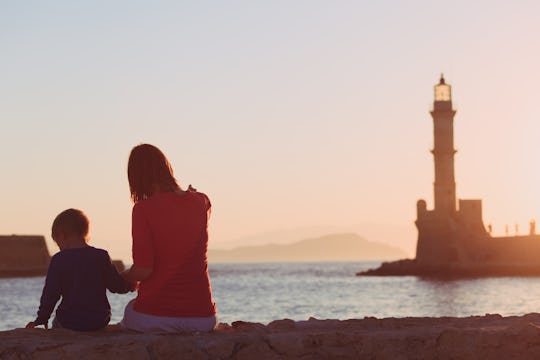 nadezhda1906/Fotolia
10 Things You Can Learn From Lighthouse Moms, Because We've Got It Figured Out
When you think about it, it's easy to see why a lighthouse is a great metaphor for parenting. A lighthouse is a beacon that leads ships to shore. Its guiding light is always visible, stable, and constant, just at a distance. If parents are the lighthouse, then children are the boats, and as lighthouse parents we trust in their ability to sail on their own, while keeping them from crashing on the rocks. So it should come as no surprise that I believe there are things you can learn from lighthouse moms, because while we're not above making mistakes, I feel confident in saying that, for the most part, we've got this whole parenting thing figured out.
The term "lighthouse parenting" was coined by Dr. Kenneth Ginsburg, Co-Director at the Center for Parent and Teen Communication, in his book Raising Kids to Thrive. According to Ginsburg, parents must strike a balance between dependence and independence when it comes to their children. It's about giving kids the space and freedom to learn within a blanket of safety. They say there's nothing new under the sun, and honestly, lighthouse parenting sounds a lot like Love and Logic, which is how I was raised. In this approach, parents give their children choices within , boundaries, allow them to make "affordable mistakes," and hold space for natural consequences with a foundation in compassion and empathy.
I'm an Xennial mom, so I tend to shy away from the extremes of parenting. I've seen a lot of parenting fads come, go, and even blow up. As a teacher, I saw how helicopter parenting led to an epidemic of learned helplessness. I've seen kids crushed by the pressure to succeed by tiger parents. But I wasn't willing to go completely free-range, either. I'm a worrier, and I need to be a little more hands-on than what's required of a free-range mom. When I heard about lighthouse parenting, it sounded a lot like how I was raised and how I wanted to raise my child. For me, it provides the best of both worlds: protection with guidance and choices with limits.
Perhaps most important, lighthouse parents are thinking about the kind of adults they want their children to become: resilient, capable, and independent. When the waters of child-rearing get rough, parents can look to these central tenets of lighthouse parenting for help, from me — a lighthouse mom: