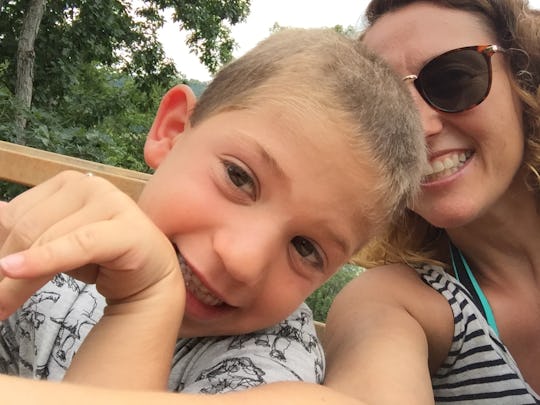 Courtesy of Liza Wyles
10 Low-Key Toxic Things Your Son Encounters Every Time He Goes to the Mall
Online shopping is convenient, and since I became a parent, I have all but given up shopping in actual stores. It's not just the hassle of the lines and noise and having to wear outside clothes that prevents me from visiting the nearby shopping center; it's the bombardment of cringe-worthy things my son encounters very time he goes to the mall. Putting aside the very idea of capitalist greed — and that our community even needs three city blocks' worth of retailers when we're starved for green space and our public schools are overcrowded — it's the culture of consumerism that irritates me most as a parent. It's a sometimes a necessary evil, though, because there are those rainy Sundays in March where you realize everyone's pants are too short and you also need a toaster and a baby shower gift and there's a food court where I can get sushi and they can get pizza. So away we go.
My kids know my stance on feminism: it's the basic operating principle of our family. They learned, as tiny toddlers, to keep their hands to themselves. They watch their father do just as much domestic labor as their mom. I know I can't protect my children from our culture's prevailing patriarchy, but I am teaching them to call it out. "That's sexist," my 8-year-old son remarked when we got to the part in one of Beverly Cleary's Ramona books that included a detail about how girls ought to behave. Instead of explaining that the book was written over 50 years ago, I beamed and agreed with him.
But just when I think I'm winning, I realize his shoes are too small and we're off to the mall. And it's everything I can do to shield his eyes from the entire ecosystem that threatens to undo all the good work I have put in to raising him to be respectful and a champion of all women.
Here are just a few things my son has encountered at the mall that grate against our gender parity goals.