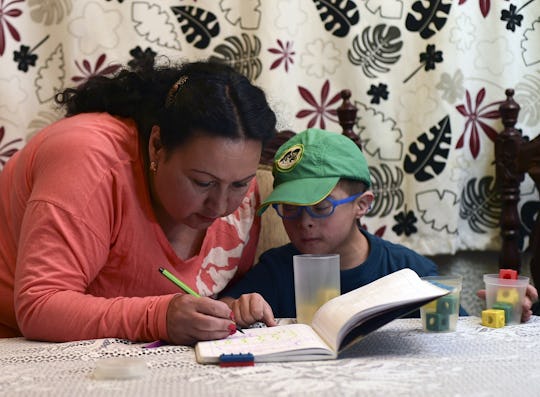 LUIS ACOSTA/AFP/Getty Images
10 Thoughts Every Mother Has When She's Helping Her Kid Do Homework
The war against homework is real. While I totally agree with the argument that homework is not entirely beneficial for children, I do like the idea of my kids spending some time, every day, doing an appropriate amount of homework for their ages. I feel it teaches them responsibility. When I was a kid, homework time for the kids was housework time for the parents; we all had our respective work to get done. Still, when I would ask for help with assignments my parents obliged, and I'm sure my parents had those thoughts every parent has when helping kids do homework. The thoughts I'm, you know, having now.
I remember some of the battles my dad and I would have over homework. He had his own ideas about seventh grade math, and those ideas were frustrating for my 12-year-old self. Now, as a parent, I can imagine it was even more exasperating for him and I know I didn't make it easier and, well, you know what they say about Karma.
I am not typically the person supervising my kids' homework, since they get it done (mostly) before I come home from work. But, occasionally, I am home with them while they attempt to tackle math (always math), word work, science and social studies. My son, in kindergarten, has about 15 minutes of homework to do, and I think that is just the right amount of time for him to sit and get it done before he starts getting antsy. My third grade daughter has closer to half an hour of work, not counting reading (which we do at bedtime). Are they enthusiastic to dive in and complete their assignments? Not really. But they are both motivated to get it done so they can have playtime afterwards.
Rarely does homework time go smoothly; they're rushing or I'm mixing up their sets of sight words and snacks are spilled and pencils get broken and my use of the phrase "good job!" is usually rendered meaningless.
Bottom line, homework is definitely a test of any parent's patience as much as it is that of a kid's mastery of the day's lessons. Here are a few things going through my (and probably every parent's) head when I'm helping my kids with homework: