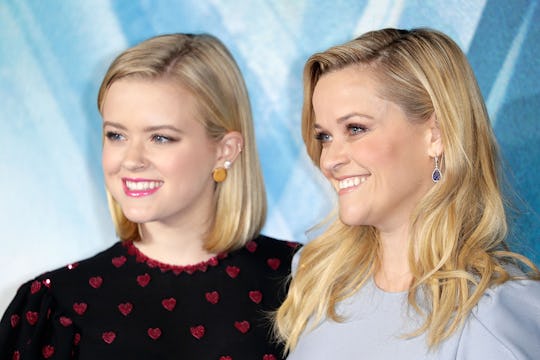 John Phillips/Getty Images Entertainment/Getty Images
Ava Phillippe Looked Identical To Her Mom, Reese Witherspoon, These 10 Times
Reese Witherspoon has some pretty strong genes. All three of her children — 18-year-old daughter Ava Phillippe, 14-year-old son Deacon Phillippe, and 5-year-old son Tennessee Toth — resemble Witherspoon in some kind of way. And this can be seen very clearly in her only daughter with her ex-husband, Ryan Phillippe. There are so many times that Ava Phillippe was the spitting image of her mom, that its actually quite scary.
Based on her Instagram account, Ava seems like your average 18-year-old girl, whose parents just so happen to be some of the biggest stars of the late 1990's and early 2000's. She's into art, super family oriented, enjoys hanging out with her friends, and will occasionally post photos with her parents to the excitement of their fans. Ava receives dozens of comments on all of her Instagram photos (she has over 681,000 followers after all) but the most common comment always has something to do with her resembling Witherspoon.
It's likely that both mother and daughter are sick of these comments by now. Although Ava definitely takes after her mom when it comes to her looks, in a blogpost for Witherspoon's clothing line, Draper James, Witherspoon admitted Ava takes after her in other ways, too.
"I think the way that Ava and I are most alike is our strong opinions and our empathy," Witherspoon said. "From the time that she could speak, Ava has always had her own ideas, and I love to watch her express herself."
But you can't argue with how much they resemble each other — just take these 10 instances.
1. When she channeled Legally Blonde
If this photo of Ava in front of a pink wall doesn't immediately remind people of Legally Blonde, then I don't know what else will. Legally Blonde is one of Witherspoon's most famous films for obvious reasons — it's super quotable, inspiring, and all of the looks she wore were super iconic. As the pink loving Elle Woods, Witherspoon inspired so many women to go for their dreams.
Who knows? If Ava is in to acting then maybe she could have a role in Witherspoon's Legally Blonde 3 (which is actually a real thing).
2. When She Was Her Mom's Date To The Emmy's
It's almost impossible to tell Witherspoon and Ava apart when they're rocking the same hairstyle. Just look at how happy they were to be at the 2017 Emmy Awards afterparty, where Reese celebrated her win for being a producer on Big Little Lies, which won Outstanding Limited Series, according to People.
3. When She Cut Her Hair
Although Witherspoon might be known for her long blonde locks, you can clearly see how much Ava resembles her mom with short hair. This is especially clear after Witherspoon posted this throwback on Instagram of her on the red carpet at the 1996 premiere of Romeo + Juliet where she rocked a shoulder length 'do.
Witherspoon with short hair and Phillippe with short hair are one in the same.
4. When She Hid Behind Sunglasses
The easiest way to confuse people? By throwing on a pair of sunglasses.
It's impossible to tell which photo if of Ava and which is of Witherspoon when they're both wearing oversized shades that highlight that they have identical face shapes.
5. When She & Her Mom Wore Their Hair Down
Forget that they share facial features — they have identical hair, too. Just look at this photo of Ava and her mom rocking some fierce beachy waves. If only Witherspoon would dye her hair blue, too. Then they would really look identical.
6. When She Rocked A Throwback Trend
When Ava wore a choker in a recent Instagram photo, you couldn't deny that she looked a lot like this throwback photo of her mom, taken in the late '90's.
I don't think anyone in the '90's would have predicted that the same trends are being worn 20 years later — but both Ava and Witherspoon rock those trends without effort.
7. When Her & Her Mom Looked Like Sisters
Forget the fact that Ava is a spitting image of her mom — they look like sisters born within years from each other. It doesn't seem right that Witherspoon and her daughter are 23 years apart, according to E! News.
8. When She Wore Her Hair Up
Whether Ava wears her hair up or down, it's obvious that she always resembles her mom. But when you compare this photo of Ava to this photo of Witherspoon taken during a 1997 red carpet appearance, it's kind of shocking how similar they look.
9. When They Both Wore '90's Looks
As previously stated, trends are always making a comeback and '90's trends are thriving. Because Ava seems like such a cool teenager, it makes sense for her to be in touch with these trends. But when she dresses in clothing that looks like it comes straight from a 1999 teen film, it's hard not to see the resemblance to her mom, who starred in some iconic '90's films (ahem, Cruel Intentions) herself.
10. When They Took *Another* Selfie Together
When Witherspoon and Ava take selfies, then you can really tell how much they look alike (they have the same nose!). It's kind of incredible.
These photos prove what people already knew — Ava really is her mother's daughter.