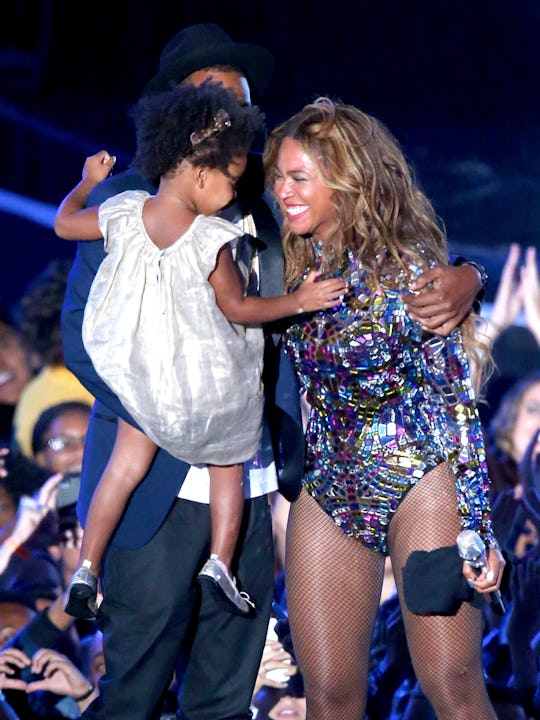 Mark Davis/Getty Images Entertainment/Getty Images
10 Times Beyonce Respected Blue Ivy's Fashion Choices, Letting Blue Do Blue
As a kid, I made some rather questionable fashion choices that my mom wasn't a fan of. The puffy white dress covered in red cherries. The backless overalls I wore backwards (3-year-old me was clearly all about the #FreeTheNipple movement). My mom's lipstick that I chose to use as body paint. Okay, so my mom wasn't quite so down with that look, but overall, she let me express myself the way I wanted to — a parenting choice I can definitely get behind. I recently noticed Beyoncé has done the same, so I collected 10 times Beyoncé respected Blue Ivy's fashion choices for everyone to enjoy. (Luckily for you guys, I will leave my own childhood fashion choices out of it.)
Considering that Beyoncé is one of the most famous women in the music industry, you'd think the pressure would be on to ensure Blue Ivy sticks with her mom's fashion-forward ways for the press. But Beyoncé and Jay Z clearly let their four-year-old choose what she wants to wear — whether that's a bunch of jewels on her face or a bathing suit that matches her mom's down to a tee. Without further ado, here's 10 times Blue Ivy wore whatever she wanted to.
That Time She Did Her Own Makeup
Four-year-old me would be so down with this look.
When She Wore Flowers In Her Hair (& Her Mom Joined Her)
When She Wore A Tiara Like The Royal Child She Is
Keeping any item out of the dress-up box once dress-up time is done is a massive success. Blue Ivy definitely looks pleased.
When Beyoncé Let Blue Wear Matching Nail Polish
When Blue Ivy Knew How To Dress Up
Okay, Beyoncé may have played a hand in this adorable outfit. But I choose to believe Blue that picked out that bowler hat all by herself.
That Time She Wore A Pink Dress, Purple Scarf, And Plenty Of Sequins
Or Instead Opted For All Pink, All Day
Every Single Time She Wore Bows In Her Hair
When She Wore A Veil For Her Mom's Music Video
Or That Time She Opted For Bunny Ears
It looks like Blue Ivy's well into her early years as a fashionista, and luckily for fans, Beyoncé seems totally cool with letting her daughter style herself. Whether Blue is wearing bunny ears or all-pink accessories, she's letting her personality shine — and looking completely adorable while doing so.