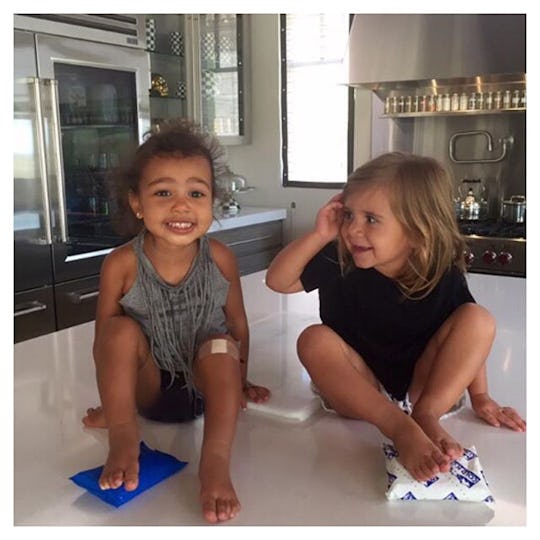 10 Times North West & Penelope Disick Proved They Are Total Soul Sisters
It looks like the tight bonds among the Kardashian-Jenner sisters — you know the gang: Kim, Kourtney, Khloe, Kendall and Kylie — aren't the only ones running strong in the family. Thursday night Kim Kardashian posted an adorable of Instagram photo of North West and Penelope Disick sharing a sweet moment post-bath time. The two are pictured lying together in their towels, providing further proof the famous family has passed on strong sisterly bonds to the next generation.
If you happen to follow either Kim or Kourtney on Instagram, you know the cousins spend a lot of time with each other, so there's lots of evidence of the relationship they've developed. They trick or treat together. They rock designer sunglasses together. They sport tutus and ice their feet together. And that's just the beginning. Think of the years of great Penelope/North photos ahead and how much fun these two are going to have looking back at all of them when they're older. "Remember that time we met a mermaid together?" one will say to the other at some rooftop bar when they're in their 20s, then snap a photo of that moment for us all to see. Ah, what a time to be alive.
The most recent photo is a good reason to look back at some of the best photos of North and Penelope living out #friendship goals. Here are 10 shots that make it seem like they really are soul sisters. Awww!
Aprés Bath
When They Shared Some Laughs While Hanging Out With Their Aunt Khloe
When They Faced Halloween Like Total Princesses
When They Both Accessorized With Stellar Shades
When They United In Rebellion Against Family Selfies
When They Were Both Mesmerized While Watching The Book Of Life
When Penelope Started Showing North The Ropes To Toddler Superstardom
When They Both Swam With A Mermaid
When They Were All Smiles Celebrating Penelope's Birthday Together
When They Strutted Like Mini Fashionistas In Coordinating Tutus And Ballerina Buns
When They Were Equally Spooked Skunks One Halloween
As we can all imagine, the lives of celeb children can be chaotic and complicated, but it's good to know that Penelope and North don't have to go at it alone. In fact, it looks like the two are having a blast sharing the experience together.
Image: KimKardashian/Instagram (6); KhloeKardashian/Instagram (3); KourtneyKardash/Instagram(2)