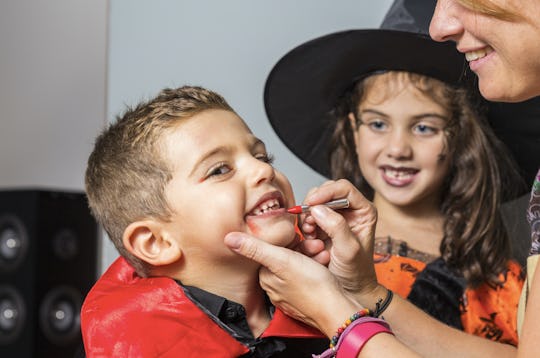 10 Ways To Get Out Of Making Your Kid's Halloween Costume This Year. You're Welcome.
Like most parents I know, I have mixed feelings about Halloween. I love the whole idea of dressing up as someone else, but I'm not the mom who spends months preparing for this holiday. Props to those who do, but it's just not me. Luckily, my kids don't mind if I purchase a ready-made costume and face paints. I may be horrible at making costumes myself, but I'm pretty fantastic at getting out of making my kid's halloween costumes. Sorry not sorry, you guys. It's a gift, really.
This year my kids are having a terrible time trying to figure out what they even want to be. One wants us all to participate by way of some carefully coordinated family-themed outfit, and the other wants to go totally rogue via some complicated costume that would require more of my creativity than I'm capable of providing. Typically the whole "what to wear on Halloween?" question is easily answered, too: I go the store and purchase whatever and voila — done! But lately my 10-year-old daughter has been all about standing out and while I appreciate her creativity and unique sense of style, I am not capable of meeting her expectations. Things like adding a fringe there or sewing some whatever here or creating the perfect artistry via face chalk on her eyelids? Yeah, I can't do that, you guys.
When I was little my mom always bought my costumes or, if we were really short on money, I threw something together based on things we had around the house. She never sewed or patched or glued anything. My partner, on the other hand, always had his costumes hand-sewn by his mom. That's really great and all, but it's totally not something I'd do, or even could do, or would ever want to do. Life's too short to spend time cursing at a pile of fabrics. With that, here are all the ways I get out of making my precious children's Halloween costumes. Target still have a few options available, right?