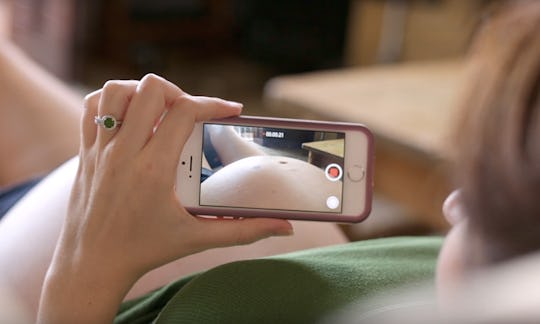 10 Weird Things All Pregnant Couples Do That Are Admittedly Odd As Sh*t — VIDEO
Couples, in general, are pretty strange. After you've been with someone long enough, you have way fewer (if any) boundaries, and have accumulated infinite tiny pieces that collectively make up your own private culture. And chances are, that culture seems super odd to anyone who isn't one of the two of you. Pregnant couples, however, are on an entirely new level of weird, which has never been more apparent than when you're watching this BuzzFeed video about weird things couples do when they're expecting a baby. From viewing extremely informative (like, they show all the information — all of it) birthing videos to ordering everything off the drive-thru menu, pregnancy turns even the coolest of couples into nothing more than two-person dad joke factories.
What would be considered strange becomes normal: going to the bathroom every two seconds, and looking forward to having a tiny human poop every few minutes are things that seem completely unremarkable within the context of a pregnancy (as opposed to any other time in people's lives, when any inordinate attention being paid to bathroom behavior seems... a little off, to say the least). But expecting couples experience change way before their baby arrives, and, of course, that change manifests in a million tiny ways that are mostly hilarious and awkward and kind of insane.