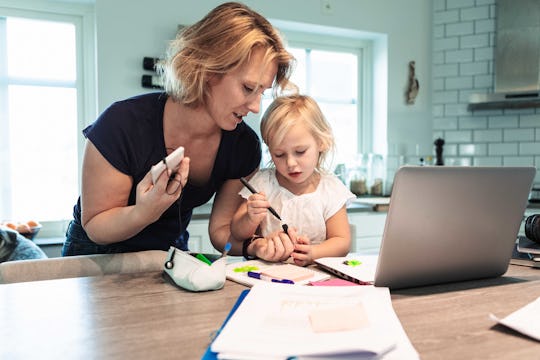 Kentaroo Tryman/Maskot/Getty Images
10 WFH Looks So You Can Take A Zoom Call *&* Comfortably Chase Your Toddler
I've been working from home for several years, and one of the best things I ever did for myself was getting in the habit of putting on real clothes, brushing my hair, and sitting at a desk to work. Finding the right clothes for your new work-from-home life can be tricky — you want to feel like yourself, but you also need to be able to wrangle a toddler and make lunches for everyone. However, thanks to the popularity of comfortable separates and athleisure, it's easier than ever to rock your work-from-home look.
It is extremely tempting to just wear leggings every day, and if I'm honest, there are many days when I do just that. However, I have done my best to separate my "day" leggings from my "sleep" leggings so that I am not constantly wearing the same things 24 hours per day. Plus, as I often have meetings that take place over Zoom, feeling presentable and professional goes a long way for my confidence. The trick is to find pieces that aren't precious, but practical and also pretty. They need to be comfortable enough to play games with your active toddler, and yet nice enough that if you have to jump on a call, you look ready. (Apart from the bit of pancake in your hair. No one noticed, I promise.)
Here are some of the best pieces I've found.
We only include products that have been independently selected by Romper's editorial team. However, we may receive a portion of sales if you purchase a product through a link in this article.