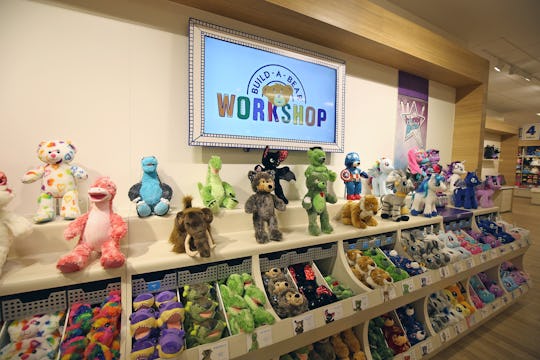 Adam Bettcher/Getty Images Entertainment/Getty Images
100 Refugee Kids Enjoyed Build-A-Bear's Pay Your Age Day Despite The Backlash
Parents and children alike promptly lost it when Build-A-Bear recently announced its "Pay Your Age Day" sale, a one-day event where customers could purchase the popular stuffed toys at a deep discount. But the excitement gave way to an awful lot of disappointment Thursday, when the overwhelming demand and hours-long lines led to the sale being shut down early. Unfortunately, that meant that "Pay Your Age Day" likely didn't turn out to be the success the company was hoping for, but it definitely wasn't all bad news: thanks to the women behind the site The Krazy Coupon Lady, 100 refugee kids were taken to Build-A-Bear for "Pay Your Age Day" so that they, too, could make their own DIY stuffy.
As the budget-savvy moms behind the incredibly successful money-saving site, Heather Wheeler and Joanie Demer were understandably excited when they heard about the "Pay Your Age Day" sale. But beyond simply being great news for their readers, the event also sparked a unique idea that allowed them to give back to their Boise, Idaho, community. In the lead-up to Thursday's event, Wheeler and Demer explained that what had begun as a casual conversation about wanting to "drive around all day on Thursday to pick up refugee kids and take them to [Build-A-Bear]" turned into an actual plan to shuttle 100 local refugee children to the mall via school bus, according to Markets Insider. And while it hasn't been confirmed whether the Boise newcomers were lucky enough to score a bear before the lines were closed (The Krazy Coupon Lady did not immediately return Romper's request for comment) it's still pretty heartwarming to hear how they turned a day that could have simply been about buying discounted bears into one focused on community and friendship.
Wheeler and Demer said that their Build-A-Bear shuttle idea was far more than just being about the bears themselves: the goal, more than anything, was to provide the children of new Boise-area refugee families with an experience that could serve as "a welcome wagon, a love bus ... [and] a little warmth and comfort," particularly for a community that faces a great deal of hardship as they attempt to adjust to their new lives. Wheeler and Demer noted, for example, that while refugee families are given the basics (beds or cots, eight months of food stamps and work training) there's still so much they need. And when you're trying to learn English and find a job and figure out a way to purchase living room furniture? Well, you probably aren't standing in line for hours at the local mall so that your child can buy a Build-A-Bear.
That reality was ultimately Wheeler and Demer's inspiration — not just behind Thursday's school bus shuttle, but also behind The KCL Foundation, a non-profit organization meant to help the Boise refugee community by providing them with much-needed goods and services, like toys, coats, kitchen items, toiletries, shoes, and bedding. But the Build-A-Bear event also gave the foundation a way to give the children an experience that they'd likely normally miss out on — even though it was a can't-miss event for countless families across the country.
The excitement meant that lines at Build-A-Bear locations started forming well before the stores even opened, and safety concerns about crowd sizes meant that the retailer announced before noon that they'd be cutting off the queues. Yet even those who made it in before the cut-off had a long wait ahead: according to CNN, one mom reported that despite the line at her local store being closed around 10 a.m., she was still waiting inside the store at 4 p.m with hundreds still in line behind her (Build-A-Bear did not immediately respond to Romper's request for comment).
On social media Thursday, many parents expressed their frustration with Build-A-Bear for not having anticipated the demand, though the company did issue vouchers for customers who were turned away. One silver lining at least? Judging by the comments left on The Krazy Coupon Lady's Instagram page, it sounds like their Build-A-Bear shuttle idea was a success.
One user left a comment saying that she and her kids "were in front of your cute bus load" in line before they decided to leave with the Build-A-Bear vouchers, and when she asked if anyone knew if the children actually got their bears, another user wrote, "yep they were towards the back of the pack and [Build-A-Bear] got the plush to them so they didn't have to wait as long in the lines."
In other words, the day may have not gone as planned for some families hoping to build discounted bears with their kids. But it's still pretty great to know that there may be 100-plus refugee children in Boise who now have some new furry friends to snuggle with, and hopefully some fun memories, too.