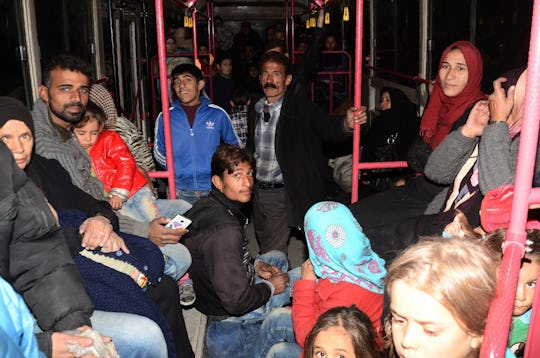 GEORGE OURFALIAN/AFP/Getty Images
10,000 People Fled East Aleppo Over The Weekend, As War Continues To Tear The City Apart
The clash between loyalist and rebel forces intensified in Syria over the weekend, where nearly 10,000 people fled eastern Aleppo after government forces recaptured six key districts in the city. The attacks, which helped the Syrian government regain control over the majority of northern Aleppo, forced civilians to flee the city for safer grounds. According to The Telegraph, 6,000 people made it to Sheikh Maqsoud, a Kurdish-held territory, while others fled to regime-controlled districts.
"These people are moving for food," Rami Abdel Rahman, head of the Syrian Observatory for Human Rights, told The Telegraph on Sunday. They're not changing alliances, they're just starving." Whether they leave rebel-held areas for regime-controlled or Kurdish territories, regardless of where their loyalties lie, they're escaping what has essentially become a siege in east Aleppo.
The 10,000 that fled are among the lucky, as well: according to the BBC, at least 250,000 people have been trapped inside of eastern Aleppo since July. Despite scarce amounts of food and fuel and a lack of functioning hospitals, leaving is not exactly an option for most civilians. "The city is under siege completely," one doctor in eastern Aleppo told the BBC recently. "No food, no electricity, no pure water, no roads out of Aleppo. The general situation is very dangerous. Every second you can be targeted by shelling or by snipers."
According to the United Nations International Children's Emergency Fund, there are now nearly half a million children living under siege in Syria, with 100,000 of them concentrated in eastern Aleppo. UNICEF has called on "all parties" to lift the sieges that have cut parts of the country off from basic services and humanitarian aid. In some places, the loss of contact has gone on for as long as two years.
"For millions of human beings in Syria, life has become an endless nightmare – in particular for the hundreds of thousands of children living under siege," Anthony Lake, executive director of UNICEF, said in a press statement. "Children are being killed and injured, too afraid to go to school or even play, surviving with little food and hardly any medicine."
According to NPR, the people who have managed to escape eastern Aleppo are few and far between, and locals reportedly told NPR journalist Alison Meuse that they were paying up to $500 a person to leave the city. With violence escalating as conflict rages on in eastern Aleppo, civilians need access to humanitarian aid immediately and a safe way out of the violence.