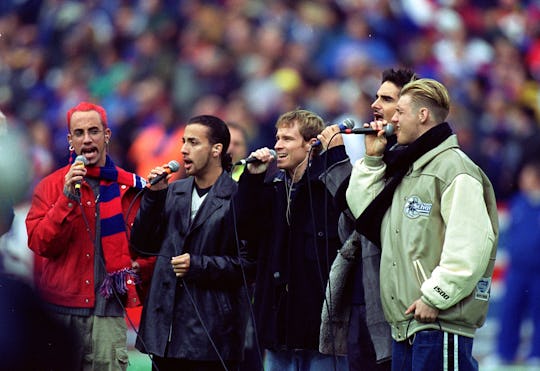 Rick Stewart/Getty Images Sport/Getty Images
11 '90s Boy Band-Inspired Baby Names For Your Future Mic Dropper
Spiked tips, bleach blonde hair, middle parts, long shirts, and dancing that can only be described as oh-so-'90s — these traits all make up the quintessential boy band member of the 1990s. No doubt, you had a poster or two hanging in your room, or maybe even a CD. Boy bands were a big part of our childhood, and if you're looking for a baby name, then '90s boy band-inspired baby names are great for several reasons.
The boys behind the bands usually had quintessential '90s names to go along with their decade appropriate hair and dancing, so choosing a name like Justin won't automatically make people assume that you're still obsessed with N'SYNC. (And hey, no judgement if you are.) And, for those of you looking for a more unique choice, there were some great boy bands out of England and Ireland during the '90s whose fame reached America, but whose first names still remain more or less unknown.
So whether your child is destined to be the next big thing or you're just looking to re-live one of your favorite childhood hit singles, there's no shame in choosing one of your favorite '90s stars for inspiration behind your baby's name. And don't worry, your secret is safe with me.