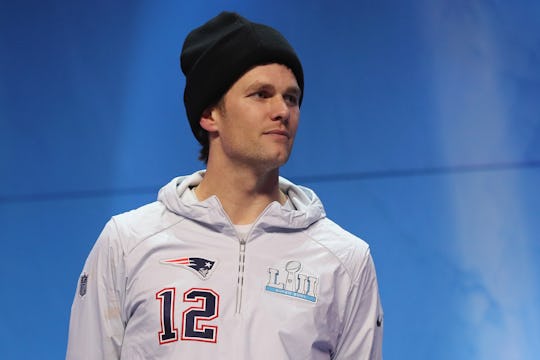 Elsa/Getty Images Sport/Getty Images
11 Anti-Patriot Memes For The Super Bowl, Because Memes Are The New Trash Talk
Super Bowl LII is coming in fast, and that means the jokey trash talk is heating up between Patriots and Eagles fans. (It is just jokey, right?) For anyone who is less than fond of the team from New England, these anti-Patriot memes for the Super Bowl will crack you up. And hey, even some Pats fans might enjoy reading these, imagining how wrong the meme creators really are.
The Super Bowl is always a big deal for sports fans, but something about this upcoming game in particular has brought out the memes in full force. As you might expect, the fact that the Philadelphia Eagles haven't won a Super Bowl yet is a pretty prominent feature in this particular meme war. But there's plenty of attacks aimed at the New England Patriots, too, with plenty of references to cheating. And some just make fun of Tom Brady in the most juvenile and silly way possible, so that's fun.
The memes just reflect an overall truth about the Super Bowl, because this big game is a really freaking big deal to so many sports fans. It's the game that claims the attention of many, if not most, Americans. Seriously: the highest television rated games, such as Super Bowl XVI, drew in about 49 percent of home viewers, according to Statistic Brain. When so many people are paying attention to a single event, memes are certain to erupt. And, to be fair, lots of them are not exactly appropriate for a family website...
That said, some people like the memes more than the actual game, and that's cool.
Memes are basically the new Super Bowl commercials, to be honest. Plus, they're open to anyone and don't cost millions of dollars to make.
Of course, not everyone is so thrilled about the sudden onslaught of Super Bowl memes.
But for the most part, memes are one of the best parts of the Super Bowl. For better or worse, they have revolutionized the ancient art of game day trash talk. So unless you're a dedicated member of the Pats Militia, read on for a laugh or two.