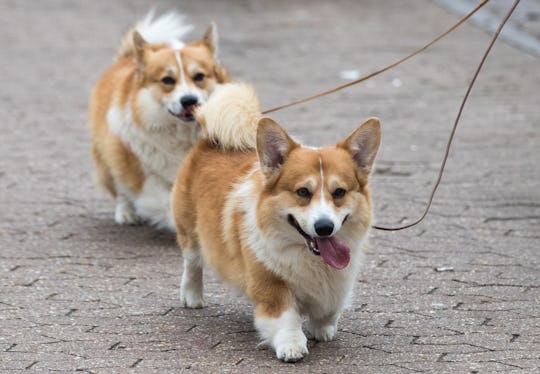 Matt Cardy/Getty Images News/Getty Images
11 Baby Names Based On Royal Dog Names For A Totally Pedigreed Title
Chances are, tons of newborn babies will be named Harry and Meghan in the coming months. But the real stars of the monarchy are by far the family pets. To put your own spin on the naming trend, consider the number of Royal dog names that make great baby names as well. Seriously, who wouldn't want to share a moniker with one of those famed corgis? It's one of the most unusual sources of name inspiration out there.
Granted, not all royal dog names translate well to human monikers. Bushy, Spick, and Span are all royal corgi names, as noted in Marie Claire. Those particular names might not works as well for humans, although I kind of love the idea of siblings who go by Spick and Span.
If the idea of naming your kid after a dog feels weird, remember that many dog people would consider it a high honor. Many of the dogs listed below were greatly loved during their time, and praised for being gentle and noble creatures. In fact, as noted by the Royal Family's official website, when a royal dog named Dash passed away in 1840, he was interred at Windsor Castle with this epitaph:
His attachment was without selfishness, His playfulness without malice, His fidelity without deceit, READER, if you would live beloved and die regretted, profit by the example of DASH.
Hey, most people would do well to leave such a legacy.