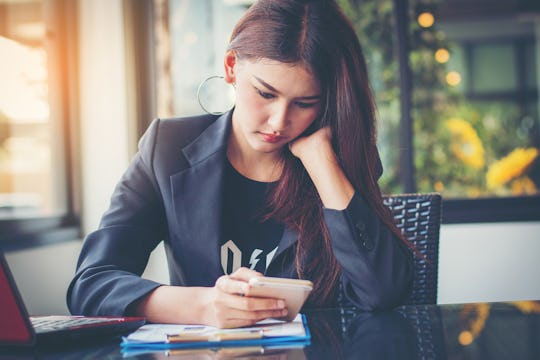 11 Scary Side Effects Of Slumping In You Chair
Thinking about good posture might conjure up memories of strict teachers who scolded you to sit up straight. After all, it's basically second nature to melt into your chair whenever you're sitting for any length of time. That upright posture business requires consistent awareness of your body, and who has time for that? That being said the bad things that happen to your body when you slump in your chair for more than 30 minutes are somewhat alarming and will have you reconsider your positions.
Basically, everything from your circulation to your digestive health can be affected by slumping for too long. Allowing your body to crunch forward for long periods of time can also harm your spine, lungs, and even your jaw. The bodily aches and pains you take for granted may well be due to slouching.
That said, if you're anything like me, it's almost impossible to sit properly for any length of time. I always wind up hunching over my keyboard like some sort of lazy praying mantis. The fight to sit upright is real. Of course, there are tons of easy ways to have better posture throughout the day, so these habits don't have to last forever. And after you learn more about the many ways slumping can harm your body, sitting pretty will start to seem even more appealing.