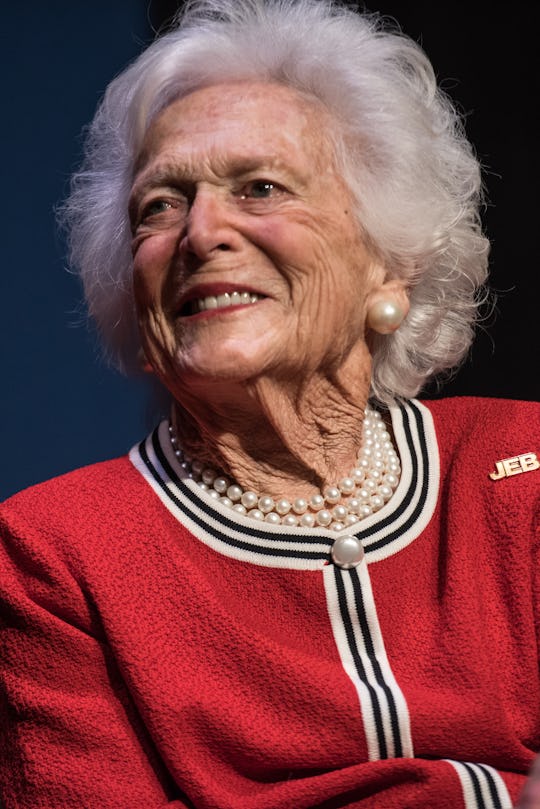 Sean Rayford/Getty Images News/Getty Images
11 Barbara Bush Quotes That Show The Former First Lady's Love For Family
Over the course of American history, there have been 47 first ladies. A position many see as merely traditional; it's actually quite important. A first lady gets a chance to initiate charities or public work initiatives, and she often does it all with strength and grace — despite living in the pressure of the public eye. The 43rd First Lady of the United States has led a long and fascinating life, but all of these Barbara Bush quotes will just show that she has always valued family over everything else.
Yes, sadly, the former first lady hasn't been in the best of health lately, and a statement from the Bush family spokesman, Jim McGrath confirmed that the 92-year-old won't be seeking any further medical treatment. Per USA Today, the statement, in part, read, "Following a recent series of hospitalizations, and after consulting her family and doctors, Mrs. Bush, now 92, has decided not to seek additional medical treatment and will instead focus on comfort care."
As unfortunate as the situation is, CNN reported that Bush has had many health complications in her life, and now simply wants to be comfortable and with her family. The statement from McGrath concluded, "She is surrounded by a family she adores, and appreciates the many kind messages and especially the prayers she is receiving." And looking back, it's clear that Bush has always adored — and valued — her family.
Here are just a few of the times Barbara Bush shared her wisdom and humor about something she seemed to value above all else: family:
When Her Commencement Address Was All About Coming Together
On June 1, 1990, Bush delivered the commencement address at Wellesley College. And while there were many impressive parts to her speech, such as when she quoted a 1980's cult classic.
"Find the joy in life, because as Ferris Bueller said on his day off, 'Life moves pretty fast; and you don't stop and look around once in a while, you're going to miss it.'"
Bush also took the time during her speech to remind everyone what was really important in life:
At the end of your life, you will never regret not having passed one more test, winning one more verdict, or not closing one more deal. You will regret time not spent with a husband, a child, a friend, or a parent.
True wisdom right there, folks.
When She Got Real About The True Meaning Of Family
At the 1992 Republican National Convention, Bush also touched on what it truly means to be a family. Because it isn't always blood, or distance, or marriage. To Bush, it's simply about showing each other that you're there:
To us, family means putting your arms around each other and being there.
She ain't wrong.
When She Reminded Everyone That There Are More Important Things Than Cleaning House
Perhaps one of Bush's most beloved quotes comes from when the mom of six let her true feelings about housework be known.
The darn trouble with cleaning the house is it gets dirty the next day anyway, so skip a week if you have to. The children are the most important thing.
Again, she isn't wrong, and considering the fact that she is married to a former president and also gave birth to one, she might just know what she's talking about.
And When She Joked About What It Meant To Be The President's Mother
As much pressure as there is on the president himself, there's also quite a bit of pressure on the president's family, no matter who they are. But, Bush has made light of her particular situation, by joking around when her son, George W. Bush, was president, that she basically was the world's most resourceful clued-in mom.
I may be the only mother in America who knows exactly what their child is up to all the time.
Class and sass, that's the Barbara Bush way.
And Who Could Forget When She Got Real About Car Pools?
When you're a mom of six you've definitely had your fair share of carpools, and while it can be easy to see them as annoying, Bush attempted to look on the brighter side of things:
It seems to me I spent my life in car pools, but you know, that's how I kept track of what was going on.
She's got a point.
When She Just Got Right To It
As any mother can attest to, there are plenty of challenges that come with raising kids, and that's something Bus wasn't about to pretend away. According to The Houston Chronicle, she honestly admitted:
Raising five boys is a handful, trust me. Raising George Walker was not easy.
She's right on brand, isn't she?
And When She Lamented Against A Lack Of Parenting
Bush has always been known for her iconic, and fabulous, white hair. And she explained why it is so, with her usual sass and humor of course. Per CNN, she explained:
I'm worried about -- I like to worry. That's why I have white hair. But I'm worried about parents who aren't parenting, who aren't seeing what their children are doing and aren't listening to them. I'm worried about feeling that we feel we're owed things. We're really not owed things.
Ah, Barbara.
And Of Course, When She Joked About Embarrassing Her Kids
Bush and her husband, George, have been married for over 73 years, and they've been through a lot together. So, it makes sense that she would have a couple of great jokes about making her children uncomfortable:
I married the first man I ever kissed. When I tell this to my children, they just about throw up.
Clearly, though, the two have made it work.
And, Oh, When She Was Oh-So-Poignant About A Parent's Love
Being a parent is rough, Bush knows this. But, she also knows that being a parent means putting your children above yoursel:
You have to love your children unselfishly. That is hard. But it is the only way.
Beautiful, and honest.
And When She Lovingly Realized How Lucky She Was
When you're constantly surrounded by people telling you how lucky you are, as Bush is, it can be hard to really remember that to be true. But, Bush does. She's said,
I've known for years that I was the luckiest woman in the world. I do have the most marvelous husband, children, and grandchildren.
Again, she isn't wrong.
And Most Importantly, When She Reflected On How To Help Your Children Grow
Bush has a large family, and she's the matriarch of it all. Recalling the best way to spend time with her family, Bush remarked:
You know sit with your arm around a little kid and read. It not only teaches them to read but it keeps the family strong.
Truly, Barbara Bush has lead an extraordinary life, and no matter what, she has family and friends standing by to love and support her.
Check out Romper's new video series, Bearing The Motherload, where disagreeing parents from different sides of an issue sit down with a mediator and talk about how to support (and not judge) each other's parenting perspectives. New episodes air Mondays on Facebook.