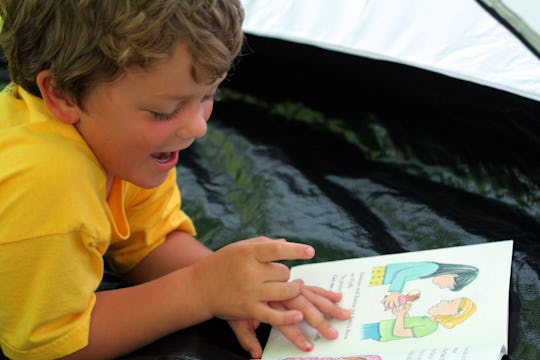 11 Books Every Mom Should Read To Her Son For The Perfect Bedtime Bonding
Reading your son a story or two every night is a fantastic way to encourage your kid to grow up and become a reader. After all, encouraging a love of books is likely somewhere near the top of your parenting to-do list (right after: Get him to keep his clothes on for an entire day.) But if your current library is wearing out, you can check out some fresh books every mom should read to her boy. 
These books, which will appeal to boys from toddler age to beginning elementary school goers, cover everything from bug facts to imaginative play scenarios. Whether your little one is a backyard scientist who brings you his every discovery, or a budding soccer star who wants to learn everything about the game, there is a book here for you and your son. And you'll get involved too, whether you need to deploy your best pirate voice or narrate an adventure into a wild world.
Robots, cowboys, and garbage trucks: it's all here. To help him dream big, learn more about the world, and spark his imagination, reading these books with your son are certain to make some great memories for both of you. And in no time at all, he'll be able to read his favorites back to you.