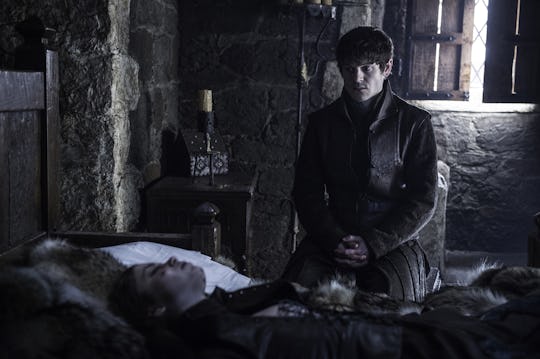 Helen Sloan/HBO
11 Chairs Ramsay Bolton From 'Game Of Thrones' Needs To Take A Seat In
There are a few characters on Game of Thrones that you continuously root for. Jon Snow's resurrection. Tyrion Lannister surviving his jaunts with two very large dragons. And then there is Ramsay Bolton on Game of Thrones. Ramsay Bolton, to put it lightly, is the worst. Ramsay Bolton isn't the guy at a party you avoid, he's the guy at a party you would never want to even be invited to. Ramsay Bolton needs to take a seat.
During his tenure on the show (and in the books, which Vulture says portrays an even worse Ramsay Bolton), Ramsay has flayed, raped, and hunted people. On the second episode of Season 6 of Game of Thrones, Ramsay did something that no one expected. In a matter of minutes, he killed his father (Roose Bolton) — knife to the gut — during a hug (it was not a hug!), and fed his new brother and Walda to a pack of ravenous hounds. Why did he do this? Because he wants to be the new Lord Bolton, and he wants to be an only child.
My suggestion for Ramsay is for him to take a seat. Like, Ramsay, you need to sit the hell down, cool it, and never come back into my life again. Here is a list of only the best chairs for one of the worst characters on Game of Thrones.
1. This Child's Chair
This orange small child's chair from Ikea ($14.99) is perfect for the man-child he is.
2. This Plain Folding Chair
Enjoy your sit in this folding chair from Target ($99.99 for a set of four), Ramsay.
3. This Simple Armless Chair
This armless chair from Pottery Barn ($299) is no frills, which is perfect for Ramsay. He doesn't deserve a cupholder.
4. This Chair That Is Definitely Difficult To Get Out Of
I'd love to see Ramsay get out of this rocking chair from Ikea ($69.99) with the same ease he had hug-killing his father.
5. This Swivel Chair
I associate swivel chairs, like this leather one from Pottery Barn ($1,799), with evil. I rest my case.
6. This Bean Bag Chair
Just think about what you've done, Ramsay, in this brown bean bag chair from Target ($116.99).
7. This Leather Recliner With Studs
Here is a soft, buttery leather recliner from Pottery Barn ($1,699) for Ramsay take a seat in (and stay for a while). But don't get comfortable, Ramsay, you don't deserve comfort.
8. This Black Leather Swivel With Neck Support
Look, I don't think Ramsay even deserves the neck support this black leather chair from Ikea ($499) offers, but it just looks like a chair Ramsay would own in his "office."
9. This Hammock
Hammocks are fun, until you have to get out of one. I'd pay money to watch Ramsay get out of this hammock from Bed Bath & Beyond ($169.99).
10. This Simple Stool
Try to get cozy on this traditional barstool from Pottery Barn ($99), Ramsay.
11. This Regal Looking Chair
This chair from Bed Bath And Beyond ($381.99) is about as royal and Iron Throne-y Ramsay deserves. Sit down, Ramsay Bolton. Take a seat and stay seated.