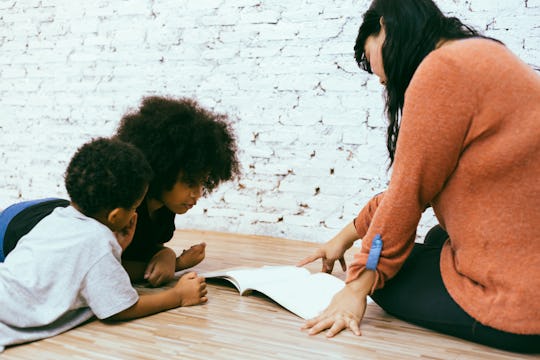 Shutterstock
11 Children's Books That Will Help Your Child Understand Depression
Identifying and understanding depression can be difficult as an adult, so just imagine how complex the concept of mental health can be for a child. But children are impacted by depression, too, so it's important that, as parents, we discuss mental health with our children starting at a young age and in age-appropriate ways. Thankfully, there are a variety of children's books about depression that can help parents broach the subject with their children in a way they will understand.
An estimated 17.3 million adults in the U.S. had at least one major depressive episode in 2017, according to National Institute of Mental Health (NIH). (A "major depressive episode," as described by NIH, is "a period of at least two weeks when a person experienced a depressed mood or loss of interest or pleasure in daily activities, and had a majority of specified symptoms, such as problems with sleep, eating, energy, concentration, or self-worth.") Furthermore, as many as 3% of children ages 6 to 12, and 8% of teens, may have serious depression, according to the Anxiety and Depression Association of America. So whether it's children learning how depression is impacting their parents, or learning how to deal with depression themselves, a source of stigma-busting, easy-to-understand information is key.
The following children's books include narratives that center mental health, and depression in particular, so that parents can begin a dialogue in a safe, inclusive, informative way. Not only will these books help you, the parent, control how the conversation takes place, but they'll allow you to start the ongoing discussion from the comfort of your home.