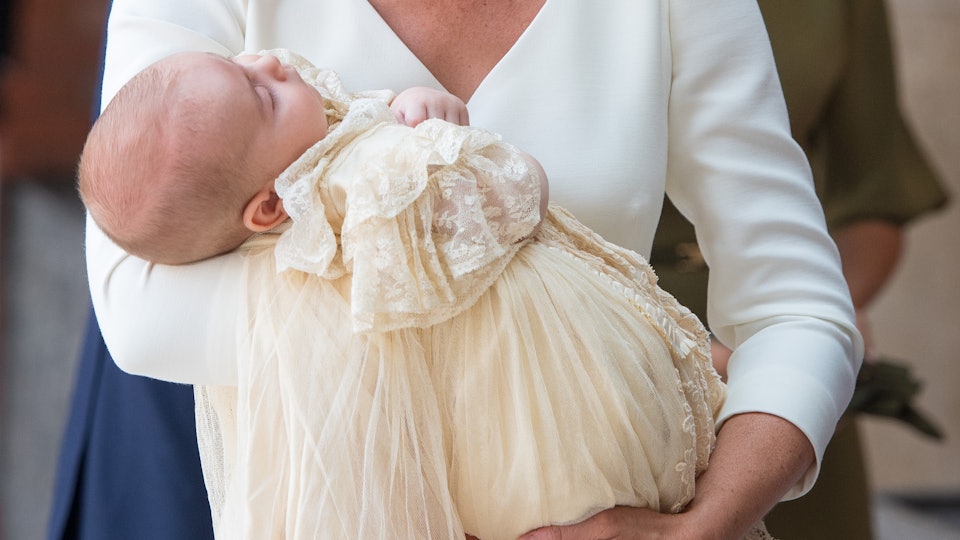 WPA Pool/Getty Images Entertainment/Getty Images
11 Christening Outfits Inspired By Prince Louis, Because Your Baby's Style Is Fit For A King
Like most of the world, you were probably charmed by the photographs of Prince Louis's recent baptism. His elegant, sweeping outfit pretty much stole the show. If you're in the market for a blessing outfit, then these christening outfits inspired by the royals are a good place to start. Because chances are high that the gown Prince Louis wore is not going to be for sale anytime soon.
In fact, Prince Louis's christening gown has a long and storied history, going all the way back to the ultimate trendsetter herself, Queen Victoria. The Honiton christening gown, which was also worn by siblings George and Charlotte, is a replica of the christening gown Queen Victoria commissioned for her first born child, according to Town & Country. The Queen clearly had an eye for style, because that very gown had a long line of service. Over the course of 163 years, the dress outfitted 62 royal infants, as further noted by Town & Country. In other words, it's a famous and long-loved style.
Although you won't get to borrow the actual Honiton christening gown anytime soon, there are plenty of similar styles available for sale. These gowns will look just as beautiful on your own little kiddo's big day.
1

Biscotti Baby Ivory Christening Gown With Bonnet
Best Dressed Child
This lovely, ivory gown will look right at home for any infant's blessing ceremony. Check out the sweet little floral and ribbon details, too. It would make an unforgettable outfit for any baby.
2

Ivory Lace Baptism Gown
Amazon
Made from soft ivory lace, this gown is also long and gorgeous like the one worn by royal babies. It looks this gown would also photograph beautifully. The length is so dramatic, too.
3

Eliza Blessing Gown
ChristeningGowns.com
Made from 100 percent cotton, this gown is both lovely and very soft. Complete with floral lace and a silk ribbon sash, this gown will make any baby's blessing a very special day indeed. Plus, the design on the bonnet is beyond sweet.
4

White Lace Layette Gown
Etsy
Custom-made options may be more affordable than you realize. For instance, this gorgeous gown with French silk ribbon and pearls starts at only $40. You'll just need to plan ahead so seamstresses have enough time to make these customized creations. But you're sure to treasure them for years after your child's big day.
5

Sage Infant Girls' Christening Gown & Bonnet
Sears
This more budget-friendly option still has all the important details, such as a beautiful lace overlay and cute matching bonnet. Your kid will look like royalty in this precious gown.
6

Cap-Sleeve Lace-Overlay Christening Dress & Bonnet Set
Dillard's
This pretty gown also comes with a matching bonnet. It's perfect for any baby age 3 months or older. It's too sweet.
7

Baby Girl American Originals Christening Dress
Kohl's
For a simpler take on the long christening gown look, this dress is perfect. It still features plenty of pretty details such as floral lace and a matching headband.
8

Girls Tulle Christening and Baptism Gown
K-Mart
If lots of lace is what you're after, then this is the gown for you. With tulle and satin touches, this gown has a little bit of everything.
9

Victoria Christening Dress
St. Jude Shop
This gown is pretty close to the spirit of the original one used by the royals. The overall lace design is especially lovely. It's so intricate and timeless.
10

White Lace Long Sleeve Dress
Etsy
For babies aged 6 months and up, this dress is a stunning choice. Just picture your baby sitting in that puddle of lace. Seriously, I wish the gown came in adult sizes because it's beyond cute.
11

Victoria Christening Gown & Bonnet
ChristeningGowns.com
A gorgeous silk and lace gown, this one would look right at home on any royal baby. The long, adorable gown and its matching bonnet would also make a great heirloom for the next generation. Like its inspiration, this gown could accompany many, many babies to their christenings.