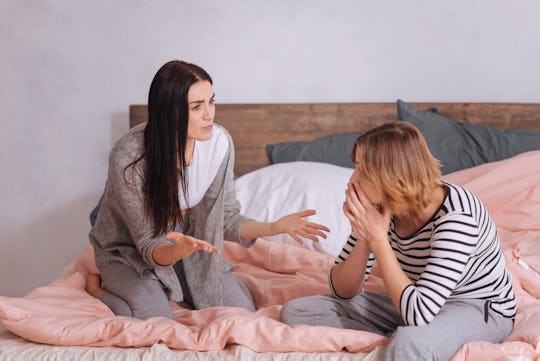 Dmytro Zinkevych/Shutterstock
11 Unfair Relationship Expectations That You're Probably Putting On Your Partner
Having high expectations for your relationship is healthy up to a point. But when those beliefs become unrealistic, they do more harm than good. There are actually a number of common relationship expectations that are actually unfair and will ultimately lead to grief for everyone involved.
With the steady stream of romantic movies and shows being thrown at people, it's understandable if they judge their own partnerships by these unreachable standards. After all, Psychology Today referenced several studies that have found that the media gives people skewed ideas about love, sex, and the role they play in relationships. And although you may think you know the difference between fantasy and reality, those conceptions can easily creep into your mind and transform your thoughts. Expecting your partner to be perfect at all times and adore you endlessly is unfair to everyone, though, and bound to end in disappointment.
Unfortunately, a real, healthy relationship, even when faced with obstacles, would make for lousy entertainment. I mean, would you tune into a TV episode where the couple analyzed their bank accounts? But the sense of love and security you can get from a healthy real-world relationship is better than any fiction. Worried your falling victim to the Rom-Com trap? Here are a few common, but unrealistic, expectations you may have about relationships.