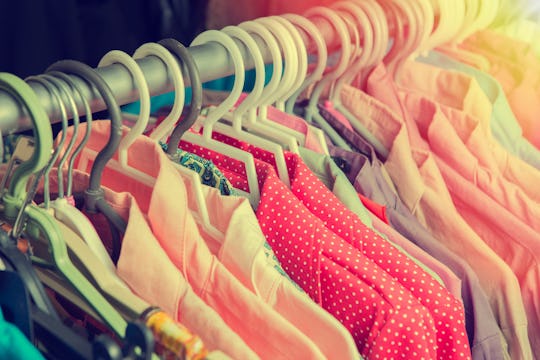 Sensay/Fotolia
11 "Compliments" About Your Postpartum Wardrobe That Are Insults In Disguise
After I had my baby, the mood in my closet shifted and I faced a new clothing dilemma. How do I accommodate my changing body and feel good about what I'm wearing? I tried on many things before finally deciding on the same thing I wore the day before, and a smile would cross my face. Then someone would say something that totally deflated me. Nothing is worse than people who give you compliments about your postpartum wardrobe that are actually insults.
It doesn't matter who it comes from — friends, family, and well meaning baristas try to break you off something sweet to boost your confidence, but it usually has the opposite effect. Because although they might be trying to sound nice, they're really serving up a hot dish of rude. And it stings... big time.
Postpartum bodies are still in recovery mode from giving birth, and finding clothes to wear during this phase was not fun for me. I didn't want to spend a lot of money on clothes I wouldn't wear for long and I barely had time to shower, so forget about hours of trying on clothes at the mall.
If you're picking up what I'm laying down, then you may have heard some of these 11 so-called compliments about your postpartum ensembles, that are actually quite insulting.