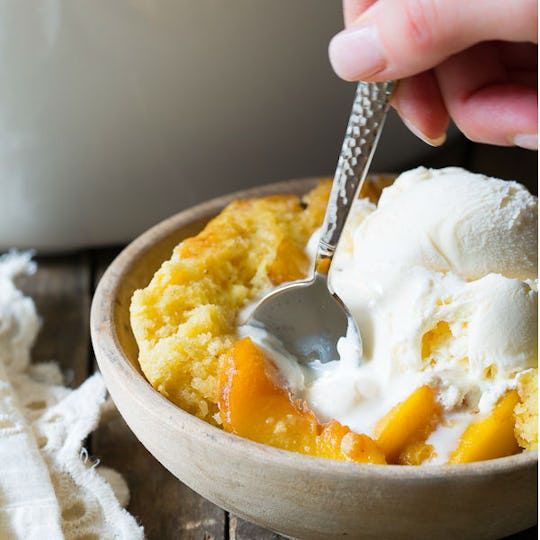 11 Crock Pot Dessert Recipes That Make It Look Like You Did All The Work
Meals made in the crock pot have certain associations. Slow cooking a stew is easy and the results are (hopefully) delicious. But a slow-cooked chili, stew, or casserole isn't going to shock anyone with its origins. Crock pot desserts, on the other hand, aren't as well known as their savory counterparts. That's because when think of a slow-cooked dessert, you might automatically think of, well, a dessert stew.
That is so far from the truth, though. In fact, these 11 crockpot desserts will totally wow your guests, while simultaneously concealing their slow-cooked origins. That's because their textures and flavors defy what we ordinarily think of when we think of crock pots. A crunchy dessert mix that's reminiscent of fresh-out-of-the-box-but-better Cracker Jacks? Check. A spicy, steaming latte? Yes, for reals. Pie? Yes, pie. You can make a pie in your crock pot. When you serve it up to your friends and family, they will have images of you slaving over a hot oven instead of merrily going on your way while the pie cooks up in the background. And hey, you can disabuse them of this notion by explaining how simple it was — or you can keep the easy-peasy recipe to yourself.