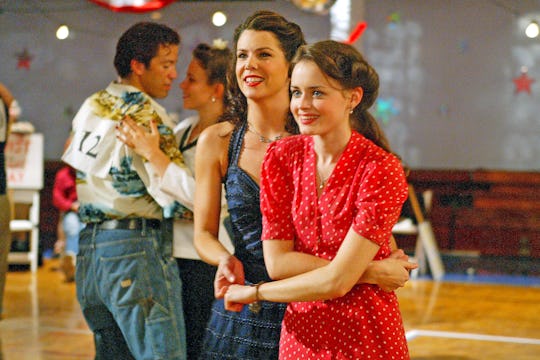 11 Easy Lorelai & Rory Mother-Daughter Halloween Costumes For True 'Gilmore Girls' Fans
Two summers ago, my family and I toured Warner Brothers Studios in Los Angeles. We had the opportunity to walk by the set that was used as the town of Stars Hollow in Gilmore Girls, a show I'd never seen. When I arrived home, I queued up the pilot episode on Netflix, and 44 minutes later I was hooked. I introduced my then 11-year-old daughter to the Gilmores, and it quickly became "our show." She loved the fashion of the early 2000s and we joked about making Lorelai and Rory mother-daughter Halloween costumes that year.
I could already see us trick-or-treating in the 1940s swing dresses Lorelai and Rory wore to the Stars Hollow Dance Marathon. I wondered what our neighbors would think if we went door to door wearing hiking backpacks and in head-to-toe Irish garb like when the girls returned from backpacking Europe. But, by then it had been so many years since Gilmore Girls was off the air, that we worried no one would "get" our costumes. We ended up scrapping the idea.
You can imagine our excitement when we heard that a Gilmore Girls revival is planned for the end of the year. I decided to revisit my Lorelai and Rory Halloween costume idea by coming up with some sets of items from my favorite episodes that you can put together for the coolest mother-daughter costumes on your block.