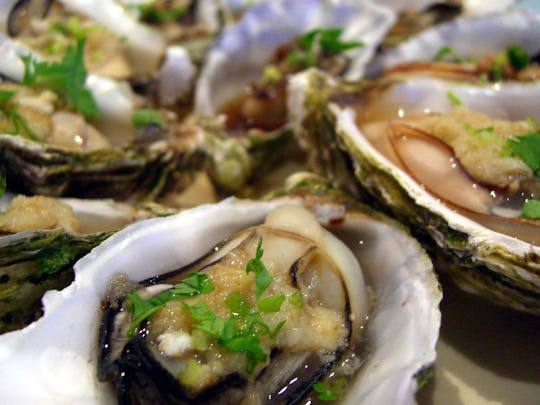 11 Foods For Better Orgasms (Yes, Eating Can Be Even More Fun)
Certain foods, such as dark chocolate, have long been associated with romance. But can the right meal actually help you out in the bedroom? As it so happens, there are actually many foods that may help improve your orgasm.
The idea of eating your way to better lovemaking is not a new one. Some foods are historically infamous for their effects as an aphrodisiac; for instance, oysters have long been considered one such treat, and their reputation stems back to Roman times (according to Gizmodo). And a few ancient authors even recommended the consumption of skink to enhance amorous encounters, according to WebMD. (But don't worry: I'm not about to suggest you dine on lizard bits.)
Nowadays, many studies have focused on the correlation between certain foods and their effect on libido and orgasm. Foods that increase blood flow, boost sex hormones, or even help muscle contractions are great candidates for the better-orgasm diet. Of course, you may need to experiment a bit to find the foods that work best with your body. But when "experimenting" just consists of eating delicious foods and seeing if they help your sex life, well, it's hardly a sacrifice. Read on to find a few food combinations that just might help you snack your way to better orgasms. There is literally no downside.