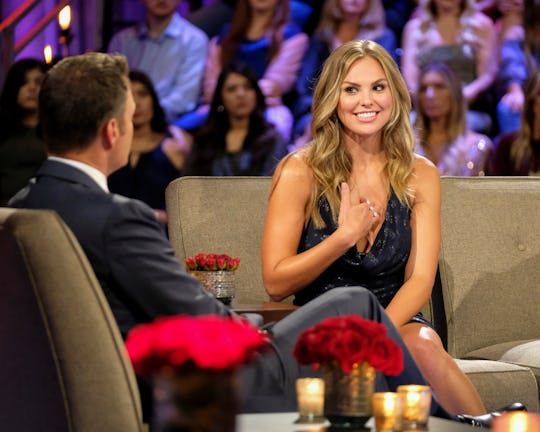 John Fleenor/ABC
Hannah Gets Real About The Windmill On 'The Bachelorette' & Twitter Is Living
Bachelorette viewers were happily scandalized when Hannah announced that she'd slept with a mystery man twice (in a windmill!) during Luke's elimination. She was able to assert herself and dismiss Luke's shaming attitude all in the same moment, which was supremely satisfying to watch. But Hannah leveled up when she revealed that she and Peter (the aforementioned mystery man) actually hooked up four times in the windmill. These 11 four times memes from The Bachelorette capture the fan reaction to Hannah's declaration.
During the first night of the Bachelorette finale on ABC, Hannah sat down with host Chris Harrison and explained that she had been "a little dishonest about something." She then dropped the four times bomb, right in front of Peter's parents and the entire studio audience. Everyone applauded, and Hannah insisted that Luke was a real catch even though she, personally, did not choose to catch him in the end.
In response, Harrison joked that "Luke P.'s heart just exploded," while Peter reasserted Hannah's previous claim that Jesus definitely still loved both of them. Meanwhile, fans on Twitter turned to gifs and memes to express their shock and admiration while cheering Hannah on from the audience. She's a Bachelorette who has certainly made her mark, if only for the fact that she has altered fan perception of windmills forever. No small feat.