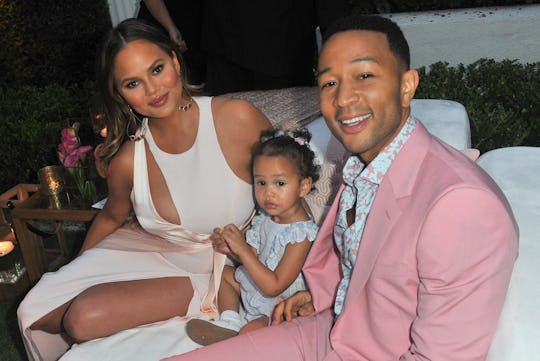 Jerod Harris/Getty Images Entertainment/Getty Images
11 Fun Facts About Chrissy Teigen & John Legend's Epic Romance
Is there anything not to love about celeb couple Chrissy Teigen and John Legend? The beautiful, hilarious, and totally-in-love duo have the kind of love story that can make even the most cynical among us believe in happy endings, and it's also why I think we can all safely agree that if they were to one day call it quits, it would be beyond heartbreaking. But in case you didn't already have them up on an impossibly high and unrealistic #couplesgoals pedastal, here are 11 fun facts about Chrissy Teigen and John Legend's relationship that prove they just the best ever.
Teigen and Legend are now happily married parents of two, and thankfully for the rest of us, they are more than happy to share glimpses of their adorable family life on social media. That's why even those with a cursory interest into Hollywood's cutest couple probably already knows that their 2-year-old daughter, Luna, is basically her dad's twin, that they recently welcomed their son, Miles, into the world in May, and that in addition to being the queen of hilarious and biting tweets, former Sports Illustrated model Teigen is also a top-notch cook, and has authored two best-selling cookbooks (luckily for Legend, she's usually also the one cooking dinner). But in addition to what we see on Instagram, there are also countless other things to adore about their love, including the following too-cute details:
They Met On The Set Of His Music Video (& Hooked Up Right Away!)
In a 2014 cover story for Cosmopolitan, Teigen explained that she and Legend actually met on the set of his 2006 music video for the song "Stereo." The then-20-year-old catalogue model was cast as Legend's love interest in the video, and though it may not have been a professional high point (she told the mag she "was doing this fake model-y dancing with the most dead eyes you've ever seen in a human"), the two hit it off, later hitting up In-N-Out for burgers, and then hooking up in his hotel room.
But Legend Wasn't Ready For A Relationship
Unfortunately for Teigen though, Legend didn't seem particularly interested in committing at first. She told Cosmopolitan that they stayed in touch while he went out on tour for a year, but that she ultimately knew if they were going to eventually be together, she didn't want to pressure him into it:
I let him be himself for a while. The worst thing you can do is try to lock someone like that down early on, then have them think, 'There's so much more out there.' I played it cool for a long time. Never once did I ask, 'What are we?' Marriage was never my goal, because I've never been very traditional. I was just happy to be with him.
Legend Once Even Tried To Break Up With Her
Legend's initial reluctance wasn't their only bump in the road early on: though the two did eventually become an item, Teigen told Cosmopolitan that he once broke up with her (though it certainly didn't last long). She said,
I was on tour with him and he'd gotten sick. He was feeling really bummed and stressed out. He was like, 'I can't be in a relationship right now.' That lasted for one day. Literally, a day. I knew it came from a place other than us not working. It was the stress of him having to maybe cancel a show, and he had never been in a real relationship — or so he says now. I always joke, 'Remember when you tried to break up with me?' He's like, 'Yes, sorry. Big mistake.'
But He Came To His Senses & Proposed
Despite seeming like an obviously perfect match for one another, it still actually took Legend seven years before he popped the question in 2011. In an interview with Oprah Winfrey prior to their wedding, Legend explained that while there wasn't "one particular moment" when he knew he wanted to marry Teigen, he eventually just realized she was the one. He said,
I knew I loved her, I knew I could see myself living with her, and spending time with her forever. I knew I could envision us having kids together, and I felt like it was time to propose. She didn't pressure me, she didn't say 'it's time to put a ring on it.' I felt like, 'it's time for us to get married.'
There Had Been A Few "False Alarm" Proposals Before
Teigen told Winfrey that Legend's proposal was a big surprise — but joked that it may have been because she had "given up hope" after a few too many disappointments. Teigen explained,
He's such a romantic all the time. Like, literally we would just go up to the Berkshires or something and he would say, 'let's ride bicycles to the lake,' or 'let's go up to the rooftop and have a glass of wine.' And I would be like, 'it's tiiiime!' There were a few false alarms with John, trust me.
Put He Pulled Out All The Stops For The Real Deal
On her second wedding anniversary, Teigen opened up about Legend's actual proposal on an episode of The FAB Life, and said,
We were going on vacation to the Maldives, and [when we got there] he'd planned this beautiful Christmas, he knows how much I love Christmas — they had buried a Christmas tree in the sand, and they made this sand pit couch area for us, and this beautiful meal.
Teigen went on to explain that at the end of the meal, a waiter came out with what was supposed to be dessert, but it turned out to be her engagement ring. She said, "there was no big grand speech or anything, I think it was just very lovely and sweet to just look in each other's eyes." 
But His Plan Was Almost Ruined At The Airport
Little did Teigen know then, though, that Legend's big proposal almost ended before it even began. Legend told Oprah,
We went [to the Maldives] over the holidays in 2011. I knew I was going to propose by then, I was planning it a couple months in advance. And I was trying to hide the ring in my bag ... I had to put it in a non-descript box that she wouldn't question. It was in my carry-on bag, going through airport security, and security wanted to look through my bag, and they wanted to look through that particular box.
Legend said Teigen was standing beside him, and all he could think was "I've hid it so well this whole time, and now, as we're just about to get to the Maldives, she's going to realize I have a ring in this box and it's going to ruin the surprise."
Luckily for Legend though, security didn't actually end up looking in the box, which must have been a huge relief, allowing Legend's proposal to take place as planned.
Her Outspoken Nature Took A Bit Of Getting Used To
Teigen is well-known for as much for her sense of humor as she is for her sharp clap-backs, and she certainly doesn't hold back when it comes to speaking her mind. And though Legend is absolutely his wife's biggest supported, he did admit to Oprah that it was a bit of an adjustment at first. He said,
When Twitter first started, I was worried, like, 'don't be too honest, don't share too much.' But then, I think she's actually more brazen on Twitter than she is in regular life. She shows more of her sweet side in regular life. And so, once I got used to it, I looked at it as 'I love it.'
And these days, in fact, he credits that side of her as the reason behind her popularity:
Us being authentic is better than us not being authentic. I think she has a lot more fans than any other model would ever have because people connect to her as a person. And I think why ... most people love her [is because] she's not afraid to be herself.
She Inspired His First Number One Hit
Legend may have already been an established musician with three studio albums under his belt, but it wasn't under the 2013 release of his song, "All Of Me" that the singer scored his first number one, according to Billboard. And he might just have Teigen to thank for that: Legend's co-writer, Toby Gad, said that the song was written in honor of Teigen, and that "the writing happened really fast, maybe three hours, just the two of us bouncing lyrics back and forth."
As for Teigen's take? Legend told Shazam she cried when she first heard the song.
They Tried For A Baby For Years Before Luna Was Born
As picture-perfect as their family life might appear these days, the truth is actually that it was quite a difficult road for Legend and Teigen to conceive. In a 2015 episode of The FAB Life, an emotional Teigen shared that she and her husband "would have had kids five, six years ago if it had happened," according to Entertainment Tonight, but that they eventually had to turn to IVF treatments before announcing later that year in a post on Instagram that they were pregnant with their first child.
There Are Probably A Few More Little Ones Still To Come
Teigen and Legend turned to IVF once more to become pregnant with their son, Miles, but it's likely that he won't be their last child: Teigen told People in February that they harvested more embryos during their second round of fertility treatments, because she "just [wanted] to gather as many [embryos] as possible" for future pregnancies.
As much as Legend and Teigen appear to have a dream relationship, they have obviously have their ups and downs, and appearances are certainly not always reality. But one of the best things about the couple is that they don't hold back from sharing the truth about their lives together. And honestly, it just makes them even easier to adore.