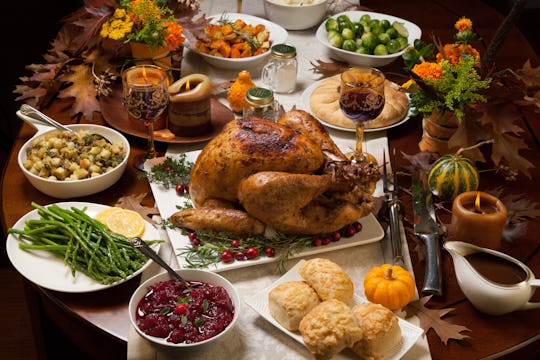 Evgenyb/Fotolia
11 Funny Thanksgiving Facebook Captions That Show The Chaos is Real
Thanksgiving is fast approaching, and that means one thing: your social media feeds are about to blow up with pics of perfect holiday meals. Images of elegant table settings, juicy turkeys, and smiling families will be everywhere. Meanwhile, your own table is piled with bills, and you've somehow managed to set a can of cranberry sauce on fire. At times like these, it's refreshing to check out the funny Thanksgiving Facebook caption ideas that highlight the holiday's true side. In reality, plenty of people experience at least a little bit of holiday chaos alongside their turkey and gravy.
Seriously though: holidays like Thanksgiving have always been a little stressful, but the expectations are ratcheted through the roof when social media enters the picture. What was once a pleasant (or sometimes straight-up bonkers) gathering of friends and family has basically become a piece of performance art to some social media mavens. So many people try to show their table has the most food, the best company, and the most perfect decorations around. You'd swear they photographed the mashed potatoes with a ring light.
I'm sure plenty of people attend gatherings like those, but the Thanksgiving celebrations in my part of the world have always been a little less than perfect. We follow recipes that have been handed down through generations for no apparent reason, and most of which are made with questionable ingredients. For example, canned pear halves with mayonnaise topped with cheese squired from an aerated can. There's another dish that combines marshmallows, Cool Whip, and canned pineapple we have the nerve to call a "salad." And then there's the fancy appetizer of sliced celery with pimento cheese. Were these recipes the result of wartime rations or weird food fads from the 1950's? I don't know and I don't get it. The point is: not everyone's family meal is some perfect staged event, and that's OK.
That's why it's important to take a step back and reflect on the holiday and what it means to you in particular. So what if the pies get a little burned, or the conversation gets super political super fast? It's OK. By drawing inspiration from real-life Facebook updates and quotable moments from fiction, your holiday Facebook posts can be the most down-to-earth and humorous of all. Seriously: everyone needs a laugh this time of year.