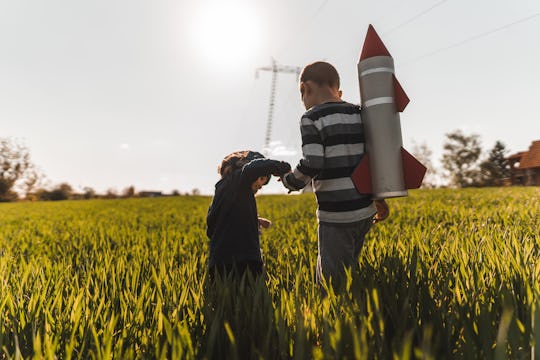 Jecapix/E+/Getty Images
These 11 Gag Gifts For National Brothers Day Are Perfect For Pranks
Whether it's the Wright Brothers inventing the aircraft, the Gallagher brothers forming the band, Oasis, or Luke, Owen, and Andrew Wilson just being an awesome trio, one thing's for sure: when brothers put their heads together, great things happen. It's just that sometimes these great things turn out to be pranks. Below I've rounded up 11 gag gifts for National Brothers Day, which falls on Sunday, May 24 this year.
Whether you're looking for a way to prank your sons (look no further than the fake video game), your daughter needs the perfect gift for her brother to show she appreciates him, or you're hoping to find a present that can be shared among brothers, these gag gifts are a guaranteed hit. As you'd expect, the options include a heavy dose of potty humor and fake bugs, which may be worth it if it keeps your sons occupied and happy. Just remember, it's the unofficial duty of sons everywhere to prank their parents, so even if you purchase the gift, you're still probably going to end up stepping in a pile of fake poop or finding a cockroach in your shoe. But that's part of the fun, right? Read on for 11 gag gifts perfect for National Brothers Day.
We only include products that have been independently selected by Romper's editorial team. However, we may receive a portion of sales if you purchase a product through a link in this article.