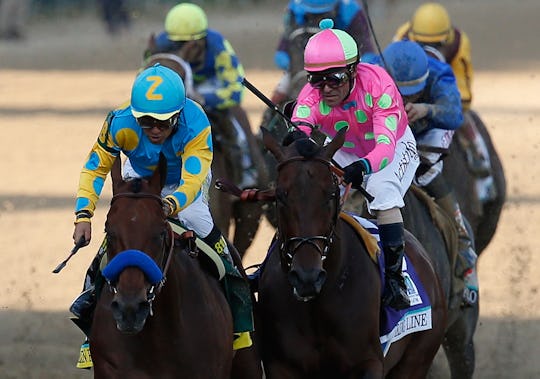 Rob Carr/Getty Images Sport/Getty Images
11 Kentucky Derby-Themed Baby Names For Your Future Horse Lover
There comes a time in every pregnancy when, like it or not, you have to choose a name. You can turn to your family tree, the top 100 charts, celebrity baby names, or even make up your own baby's name out of thin air. With the Kentucky Derby fast approaching though, perhaps you weren't aware of the vast array of naming possibilities from the race's participants. Yes, the horses. If people can find inspiration from celebrities, I see no reason at all why Kentucky Derby themed baby names can't be a thing.
I know what you're thinking. "There's no way in heck that I'm naming my child Seabiscuit. Or any of the other ridiculous horse names they come up with." And I understand. Really, I do. I mean, Danzing Candy is one of the contenders this year. But, the key word here is inspired by. If you want to name your future child Danzing Candy or Trojan Nation, then by all means, go for it. But I'm a firm believer in seeing creativity in every situation— horse races and all.
In fact, some of the horses of this year and of previous years have downright inspirational names that wouldn't require too much of a stretch for a baby name. Others, will probably take a little bit of creativity. But in today's age, creativity is the whole point, right?