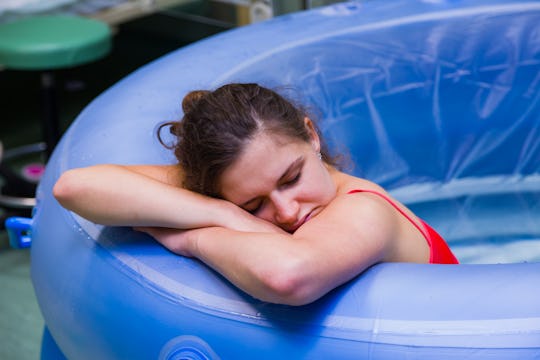 Fotolia
11 Necessary Mantras For Pregnant Women Who Want To Birth Without Drugs
Something that won't be news to moms considering birthing without drugs, but is apparently shocking to everyone else: some of us are just as afraid of having a needle in our spine as other people are of labor pain. For some of us, optional medical interventions are scarier than the thought of birthing without them. We are the minority on this, though, so memorizing some necessary mantras for birthing without drugs can be super helpful as you go through pregnancy and into labor.
As a first time bio-mom who decided to birth with midwives and without medication, I know firsthand both how challenging and rewarding it can be to birth the way you want. Of course not everything is in your hands— unforeseen circumstances and emergencies do arise sometimes — but birthing without drugs is entirely possible for many people, including first-time moms. It requires physical and especially mental preparation, since (legitimate medical possibilities aside)the biggest hurdle you're likely to encounter is overcoming a lifetime of cultural conditioning that teaches people to be afraid of giving birth. Chances are, you'll also be surrounded by people who were socialized to believe the same things you're now trying to unlearn, so it's infinitely more difficult to unlearn what has been engrained in not only you, but those around you, while simultaneously going through the physical act of labor and delivery.
For all the flack and often unfair assumptions out there about moms who choose an unmedicated birth plan, in my experience there is no shortage of people who either have had medicated births, people who want them in the future, or men who should just STFU in general, who have no qualms whatsoever telling parents like us why our choice is silly, misguided, or wrong. So aside from learning all you can about what "normal" birth is really like, if you want the best possible shot at a med-free birth, choose your care provider wisely, and find ways to protect yourself, mentally and emotionally, from people who are going to try to talk or scare you out of our choice. Doulas and well-informed, well-prepared birth partners are super useful on this front, both before and during labor. The following little mantras can help, too.