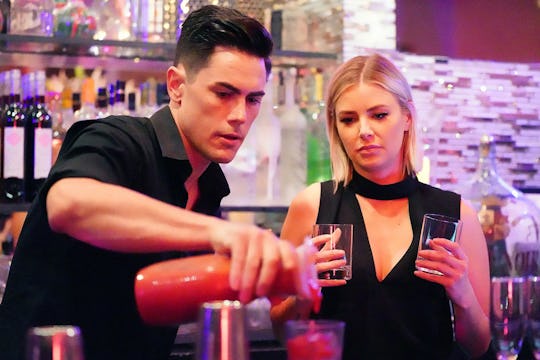 Nicole Weingart/Bravo
'Vanderpump Rules' Season 7 Premiere Brought Out The Best In Fans On Twitter
Another season, another dramatic season of Vanderpump Rules. Or at least, that's how the season ahead seems after the Season 7 premiere. Jax is showing a more mature version of himself now that he and Brittany are engaged and LaLa is finally allowed to celebrate her relationship and say her boyfriend's name on TV. I'm telling you, this is going to be a season of big wins. And some of the best Vanderpump Rules tweets in honor of the Season 7 premiere show just how excited fans everywhere already are for what's to come
The premiere touched on some heavy themes, including Jax and LaLa who both lost their fathers recently, but its main focus was (as always) the ever-shifting relationship dynamics between the group. At least for the moment, they all seem relatively healthy.
Stassi also has a new boyfriend and it seems like she's finally moved on from Patrick, so you know — growth. Sort of. Fans are basically eating up what the new season has brought so far and in honor of Season 7, here are some of the best Vanderpump Rules tweets right now.
In Honor Of That Proposal
I'm not saying that Jax's proposal at a fish stand wasn't cute — it was where they had their first date. But couldn't it have been at least a little bit more romantic for the sake of their photos? Wasn't anybody thinking of the 'Gram? Maybe it doesn't matter what anyone else things as long as Brittany is happy, but Twitter still had some thoughts.
On Stassi's New Beau, Beau
Not many viewers were big fans of Patrick and all of the drama he brought with him. Like a bad penny, Patrick could always surface once again, but Stassi seems happy with her new boyfriend named Beau, and fans on Twitter seem to 'ship them too. As the season goes on, we'll have to see how their relationship pans out, but for now at least, he seems like a keeper.
Scheana & Her Attachment To Rob
I don't know what it is with current and former SUR employees entering into toxic relationships, but Scheana proved during the Season 7 premiere that she still isn't completely over Rob. Their issues were laid out over the course of Season 6 and she admitted during the Season 6 reunion that she took their breakup hard. Then, in the Season 7 premiere, she once again showed how attached she still is. I don't know what their future holds or if they have one together, but fans are either loving or hating the mess.
Love For The Show In General
Regardless of what draws you to the show, whether it's Stassi's birthday, the pasta, or Tequila Katie, it's hard not to get totally engrossed. And Vanderpump Rules fans are back in full force. From the looks of things anyway, people have been waiting for their favorite servers/models to grace their screens once more with bated breath. Not that I can blame anybody.
Whether you're watching the show in the hopes that Jax's complete 180 was real or you're just waiting for James to rap again, Vanderpump Rules Season 7 is already off to a solid start.
This first-time mom wants to have a home birth, but is she ready? Watch how a doula supports a military mom who's determined to have a home birth in Episode One of Romper's Doula Diaries, Season Two, below. Visit Bustle Digital Group's YouTube page for the next three episodes, launching Mondays in December.