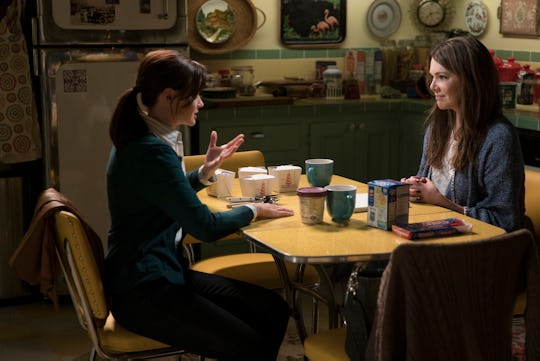 Saeed Adyani/Netflix
11 Pop Culture References In The 'Gilmore Girls' Revival That Show Not Everything Changed
There are many, many things that the beloved Gilmore Girls is known for. The insane eating habits, the fast talking, the coffee, and of course, the interminable pop culture references. These fifteen pop culture references in the Gilmore Girls revival show that the ladies have not been living in a bubble for the past nine years, and that show-creator Amy Sherman-Palladino knows just what the fans want, their girls back in action and just the same. While of course the characters have grown and changed over the years, their obsession with pop culture remains totally unchanged.
It would be impossible to list every single one of the references mentioned in the four episode revival, because it would take at least five viewings and near perfect hearing, but even after one watch, I managed to capture quite a few. The first of many was revealed first when the first page of the script was released. Rory had just gotten of a plane from London, and Lorelai was berating her for looking perfect even though she spent the past seven hours in a glorified metal tube. "Admit it," she said, "You've been Goop'd," a reference to Gwyneth Paltrow's aspirational lifestyle brand that presupposes everyone has hundreds of thousands of dollars to spend on things like cashmere sweatpants. But the references did not stop there.
1. Rory No Longer Living In Brooklyn Like Lena Dunham
2. Lorelai Arranging Her Magazines By Kardashian
3. Emily Has Read The Life Changing Magic of Tidying Up By Marie Kondo
And didn't find it all that helpful by the way.
4. Lorelai's Hiking Trip Was Inspired By Wild
The book, not the movie. There's a difference.
5. Game of Thrones Gets Two Shout-Outs
This includes a Khaleesi and White Walker reference, proving that Lorelai and Rory have been dutifully keeping up with their HBO shows. Well done, ladies.
6. Outlander Is Mentioned
7. Luke Is Friends With the Kiefer Sutherland
This warranted a quote from 24 by Rory, obviously.
8. The Meta Joke
When Lorelai offered Rory a single note on her book The Gilmore Girls, she advised her to leave off the "the" from the title because it's cleaner, cooler, in a direct reference to The Social Network.
9. They Still Talked About The Real Paul Anka
10. The Movie Arthur Was Mentioned
11. A Reenactment of The Wizard of Oz
Perhaps the revival wasn't exactly what fans were expecting, but at the very least, it's good to know that Lorelai and Rory have remembered what's important in life. And that is lots, and lots of TV.