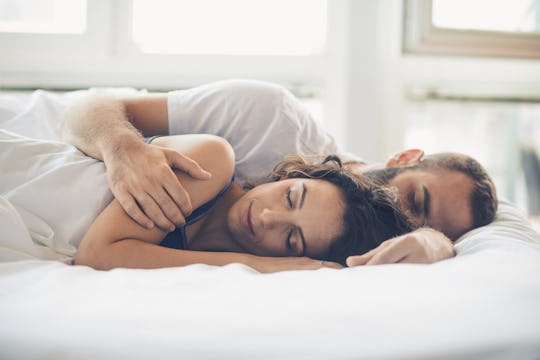 clownbusiness/Fotolia
11 Positions For Sleepy Sex, Because You Can Be Tired & Want To Get It On
When you're tired, it can be difficult to get in the mood. But whether you're in a longterm relationship or have a little black book of friends with benefits, there's no reason not to cash in your sex chip just because you're drowsy. And there are a number of positions for sleepy sex get you off without qualifying you for the sex olympics. Hey, just because you don't break a sweat doesn't mean it's not good.
In fact, lazy girl sex positions can help you get the most out of a night's sleep. That's right, psychologist Cindy M. Meston, director of the Sexual Psychophysiology Laboratory at the University of Texas at Austin told Women's Health that during orgasm, the hormone prolactin is released, and this hormone helps you sleep sounder. Meston added that "subdued" sex — also know as sex achieved from sleepy sex positions — will aide your sleep as opposed to more acrobatic sex that tends to energize people.
Of course, this isn't to say you should force someone to have sex or be forced to have sex if you're tired. If you want sleep over sex, that decision should be respected. But if you need a little help lulling yourself to deep sleep and happen to be horny, here are some sleepy sex positions to get you going.