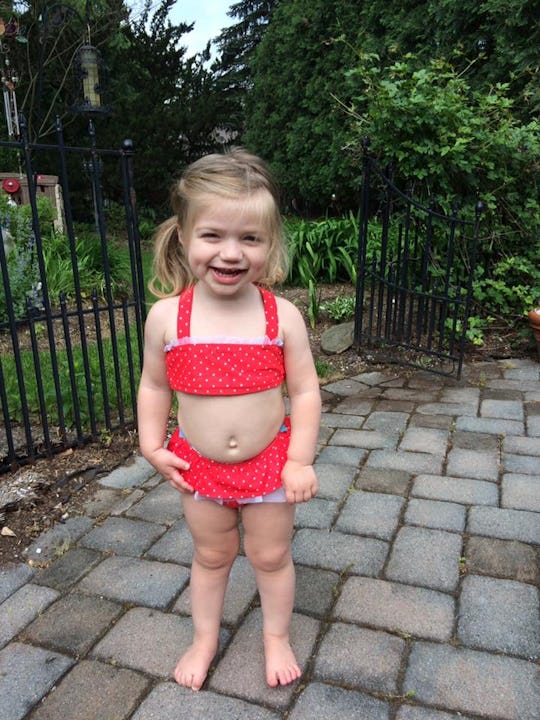 Courtesy of Jamie Kenney
11 Questions To Ask Before You Buy Your Daughter A Bikini (Because #FeministProblems)
As we creep past the last day of school and summer begins in earnest, concerned mom boards everywhere begin to discuss something that has been discussed since the dawn of mom boards (probably): should you buy your daughter a bikini? People have the feels on this one, everybody. Strong feels. Confused feels. Angry feels. Indignant feels. Pearl-clutching feels. Basically all the feels. Discussion can get thorny, mired, and hostile. It's a metaphorical minefield out there, so let's try to navigate this together, shall we?
I should start with a full disclosure. The adorable, bikini-clad kid pictured above? That's my daughter. Yes, my daughter wearing a bikini. So I'm pretty solidly on "Team Let The Kid Wear A Bikini." However, "Team Kids Should Not Wear Bikinis," I get you. Your team makes some really, really excellent arguments, and I respect any parents' decision when it comes to their own child. At the same time, of course, I think my particular team makes some really, really excellent arguments as well, which is why, at the end of the day, I can understand why the whole "should your daughter wear a bikini" discussion/argument/debate is complex and passionate and difficult to traverse.
Still, regardless of what team you inevitably land on, I do think there are questions both teams can consider useful in assisting parents in deciding what choice works for them. Hey, being a parent is hard, and while we want our children to love and accept and never be ashamed of their bodies, we also want to protect them to the best of our ability. With that in mind, I think we can all agree that asking ourselves the following questions before making an informed decision, is the best way to go.