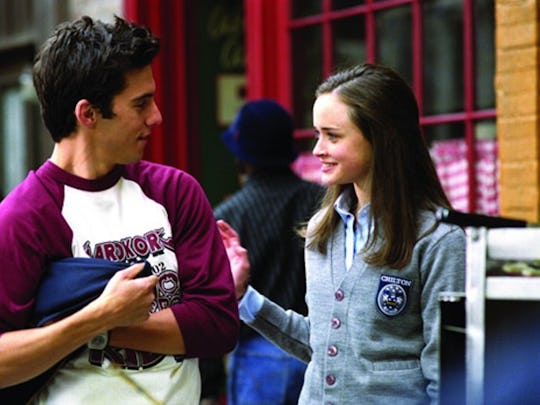 Warner Bros. Television
11 Reasons Jess & Rory Should End Up Together In The 'Gilmore Girls' Revival
When Gilmore Girls ended, Rory was involved with no one. After choosing to do something for herself over Logan's ultimatum, she made plans to travel across the country working for Obama's presidential campaign. And as a whole, I was fine with that — proud even, that Rory Gilmore ended the show on a high, independent note. But now viewers are about to embark on Gilmore Girls: A Year in the Life and now I need some real resolution for her. And the reasons why Jess and Rory should end up together in the Gilmore Girls revival far outweigh any reasoning behind her ending up with either Logan or Dean.
Once upon a season, I may have been rooting for Dean to leave his wife for good and find his way back to Rory on a more permanent and less adulterous basis. But I think it's OK to say now that Dean may have been her first love as a kid, but Jess became the real deal and could be the perfect match for her now that they're both grown adults. I'll even go as far as to say that all three of Rory's main love interests on Gilmore Girls have been good for her in some way, but the connection she had with Jess, and continued to have each time she saw him over the years, is the stuff novels are made of. For example...
1. He Was Always There For Her
Jess may have had his faults early on, but so do all teenagers, right? Still, he was always there for Rory when it counted. In fact, he was even the one who knocked some sense back into Rory during Season 6 and convinced her to return to Yale, where she belonged. I'm not sure anyone else could've snapped her out of it and given her the tough love like Jess did.
2. His Sarcasm Fits In With The Family
Jess has always had a smart mouth — as in, he and Luke were never short of the back and forth repertoire that made their times on screen together so amusing. And even though it took a while for Lorelai to warm up to Jess, it was always pretty obvious that he could banter with the best of them.
3. He Was Adorable All Of The Time
Jess was adorable when he was cleaning deviled eggs off his egged car. He was cute when he was dressing like Luke to be ironic. He was appealing when he was just sitting there, being a silent and frustrating boyfriend that didn't know how to communicate effectively. Basically, Jess has always been cute and adorable and everything he needed to be the best looking bad boy Rory could ever need.
4. Jess & Rory Balanced Each Other Out
As time went on in Jess and Rory's relationship on Gilmore Girls, it was clear that they shared a love for reading and, most importantly, they shared an interest in Rory following her dreams. Whether those dreams meant Yale or Harvard, Jess was always 100 percent behind her in them.
5. He Was Never Afraid To Be Real With Her
Like when they first met, and Jess wanted to duck out of the house via Rory's bedroom window and she was all, "you can trust me" and he's like "I don't know you (pretty and innocent looking girl that I will fall in love with some day)." OK, he probably didn't say that last part, but it was this little exchange that helped begin their friendship and ignite that initial spark.
6. Jess Kept Popping Back Up
Sure, Dean came back a few times throughout the course of Gilmore Girls, but Jess always seemed to be the one that got away, and would continue to get away. Like when Rory surprised him with a visit to New York to say a real goodbye to him after a day of adventures. Or, when he came back to Stars Hollow to walk his mom down the aisle. Jess was always there, so he should be there forever. With Rory.
7. They Never Got The Timing Quite Right Again
After dating as kids, Jess and Rory would occasionally pop back into each other's lives, but nothing big would come of the two of them again. Either Rory was in love with someone else or Jess was dating another girl. So when fans see the two of them in full fledged adult form on Gilmore Girls: A Year in the Life, now is the perfect time for them to try to pick up where they left off.
8. Their Last Time Together Was Swoon-worthy
The last time fans saw Jess on Gilmore Girls was near the end of Season 6, when Rory visited the open house at his publishing job in Philadelphia. It's there viewers saw just how far Jess has come as a published author and as a person. He also connected with Rory, as per usual, even though she admitted to having gone to see him in hopes of making Logan jealous. But this glimpse into this adult and established version of Jess showed fans everything they need to know about his romantic future with Rory, which was that it needs to be a thing.
9. Jess Always Had The Sort Of Spunk None of Rory's Other Boyfriends Had
Dean was sweet and adorable and Logan was an outspoken risk taker. However, Jess was a combination of the two, with his own charm and snarkiness that was unrivaled with any other love interest of Rory's throughout the series. That's not to say you could replace the other guys, because they were good in their own ways as well. But Jess should have been endgame for her, so they deserve this new chance on the Gilmore Girls revival.
10. They Would Make Beautiful Babies
This is just a fact, people. Rory has that brown hair and those crystal blue eyes. Jess has the matching dark hair and adorable grin. Their children would basically be models, and with the rumors of there being a pregnancy when Gilmore Girls comes back, there is no reason to not hope and pray that it could somehow involve Rory and Jess.
11. He's Going To Be In The Gilmore Girls Revival For A Reason
When Gilmore Girls: A Year in the Life premieres on Netflix, almost the entire original cast will be returning. This includes Matt Czuchry (Logan), Jared Padalecki (Dean), and yes, Milo Ventimiglia (Jess). And while it can be argued that all of Rory's past boyfriends are returning — which could mean all three of them have a fair shot — it doesn't hurt to hold out hope for Rory's best match of all of them. Ventimiglia is returning for a reason, right? So why can't that reason be for Rory and Jess to finally be together again? Hey, a girl can dream, right?