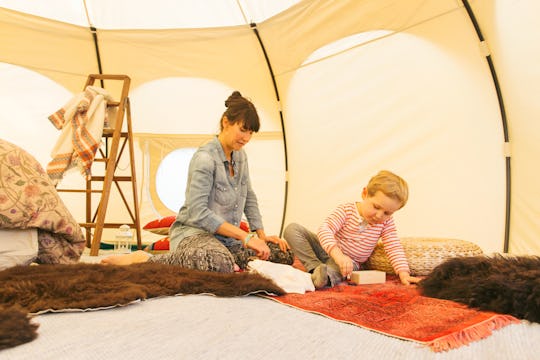 VISUALSPECTRUM/Stocksy
It's Time For Everybody To Stop Judging Hippie Parents & This Is Why
I'll admit it. I'm a bit of a hippie. I'm not full-fledged "abandon all worldly possessions to spend the summer following Phish" or anything like that, but my general life philosophy and, yes, parenting practices, run a bit on the crunchy side. Actually, a lot of the time I don't feel especially hippie-ish until someone else points it out. Most of the time it's commented upon matter-of-factly, or with an air of pleasant surprise. But every now and then I get what all mothers will get at some point: judgement. Except guys, you shouldn't judge hippie parents. You shouldn't really judge any parents... except the parents from Home Alone because they really should have noticed Kevin was missing before they got on that plane.
Look, I may be a hippie, but I'm also snarky AF, so I get the instinct to judge. I really do. Especially when you can do it in a witty way, because who can resist a good (if mean-spirited) joke? But the wit isn't worth the mean-spiritedness, because while taking a crack at someone's parenting may help you feel better about yourself for a hot minute, in the long-run it just creates a culture of shame and back-biting that is going to hurt you far more. (And hippies reject the concept of shame.)
No one should judge anyone, of course, but I'm personally qualified to share some very valid reasons for why free-spirited moms and dads don't deserve to be judged... from my own hippie-dippy point of view.