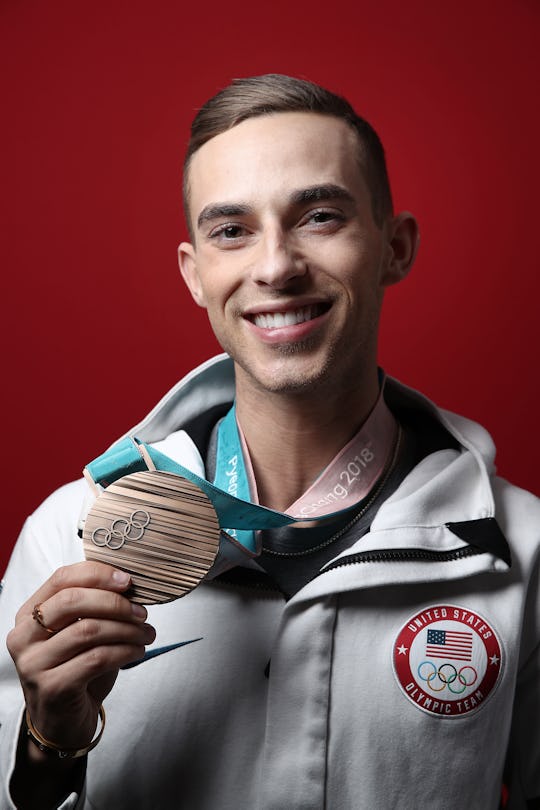 Marianna Massey/Getty Images Sport/Getty Images
11 Surprising Facts About Adam Rippon That You *Absolutely* Need To Know
Team USA figure skater Adam Rippon has become somewhat of an overnight sensation during the 2018 Winter Olympics. And while there are plenty of reasons for that, these 11 surprising facts about Adam Rippon prove that he's definitely just as awesome as everyone makes him out to be. And honestly, he's definitely got the potential to be his own kind of star athlete.
Now, in case you aren't aware who Rippon is, allow me to fill you in. If you've been watching the 2018 PyeongChang Winter Games, you'll probably recognize Rippon's smiling face, or his dazzling moves on the ice. If you haven't been tuning in though, you're seriously missing out. His performances have been stellar, and he's practically become an American treasure in the time since the games started earlier this month. Don't believe me? Just go ahead and type in "Adam Rippon" into Google and let those 1,180,000 results convince you.
Yeah, he's pretty popular. And that's actually kind of an understatement. While his run at the 2018 Winter Olympics might be over and his bronze medal for the team ice skating competition tucked safely away, Rippon isn't going anywhere. He already has a legacy and it doesn't end with his performances. So, sit back, relax, and let these fun facts about Rippon work their way into your brain, and don't forget them.
1. He Was Offered A Position To Stay On As A Commentator For NBC
Rippon was offered a position by NBC as a commentator for the rest of the games to "work for the network on a variety of platforms, including television, digital and social media," USA Today reported on Sunday. However, Rippon has officially turned it down in order to continue to support his fellow athletes.
2. His Hometown Is *Pretty* Iconic
Yes folks, Rippon hails from the one and only Scranton, Pennsylvania, otherwise known as home to Dunder Mifflin in the hit NBC sitcom, The Office.
According to Cosmopolitan, though, Rippon is used to any Office jokes you might have in store, although I completely support your Jim Halper comparisons.
3. He Made History For Gay Athletes
Rippon came out as gay in 2015 in Skating magazine, and this year he came "the first openly gay athlete to qualify for the Winter Olympics for Team USA when he was selected to be part of the 2018 men's Olympic figure skating team," according to TIME. Of course, Gus Kenworthy followed Rippon, and both athletes have proved to be inspiring for young athletes everywhere.
4. His Coming Out Was Also Super Inspiring
When Rippon came out in 2015, his interview made headlines, and for good reason. His quotes about being a gay athlete were super powerful, and something that everyone should read. For example, according to the Ice Network, Rippon said:
Being gay is not something that defines me. What defines me is what my mom always taught me: to treat everyone with respect, to always be a hard worker and to be kind. Those are the things that define me.
Rippin may be young, but he's honestly so wise.
5. He's Part Of A Big Family
As Heavy.com reported, Rippon is the eldest of six siblings: four boys, Adam, Tyler, Brady, and Sawyer and two girls, Dagny and Jordan. Rippon seems to be pretty close to his siblings, and posts regularly about them on Instagram and Twitter.
6. He Was Born With Impaired Sight & Hearing
Rippon wasn't born with a silver spoon in his mouth. In fact, when he was a baby, he had some pretty serious health conditions. Per NBC's profile of the athlete:
He was born with an eye infection and an 80 percent hearing loss. Before his first birthday, both were corrected. He also survived a severe respiratory condition and his appendix burst at age 5.
Obviously, all is well now, but that's still a lot for a baby to be saddled with.
7. He's Had His Fair Share Of Doubts
While he may seem pretty confident now, Rippon has gone through some pretty tough times in terms of his skating. After he didn't make the U.S. Olympic team in 2014, he got pretty down on himself. According to Yahoo! News, Rippon explained his devastation in a 2015 speech:
The U.S. Championships in 2014 was the worst competitive experience of my life. I felt that I had worked my entire life for the opportunity to qualify for the Olympics and here I was. Four years after I had vowed that I would be on the team, I wasn't going and was embarrassed about my performances.
Obviously, you can't win them all, and Rippon definitely had to learn that lesson the hard way.
8. His Signature Move Is Just As Fierce As You'd Expect
As many skaters do, Rippon has a signature move that he has perfected over the years. Per TIME:
Called the "Rippon Lutz," the figure skater's signature move involves a triple Lutz completed with both hands above his head.
And based on just how well that move has done for him, it seems as though the Rippon Lutz has served its purpose.
9. He Loves Ru Paul's Drag Race Like Everyone Else
As with any athlete or person in the spotlight, Rippon has plenty of haters and naysayers. But he doesn't let them get to him. Quite the contrary, actually. As Vulture astutely noted, in the above tweet, Rippon quoted a contestant from season seven of Ru Paul's Drag Race. When he said "I'm a glamazon bitch ready for the runway," he was likely referring to Kennedy Davenport's gem of a quote from the show.
Same, Rippon. Same.
10. Britney Spears Is One Of His Biggest Fans
I mean, I don't think anyone could really blame Spears for being a fan of Rippon, but nevertheless, the fact that she tweeted her encouragement is pretty spectacular.
11. He Already Knows What He'll Do Next In Life (Probably)
Obviously, figure skaters can't figure skate for their whole lives. Much like ballet, football, and basically any sport, figure skating has an age limit. So, when Rippon considered what he would want to do with his life after retiring from skating, he already had an idea back in 2016. In an interview with FigureSkatersOnline.com, Rippon explained that he'd love to go into choreography. Per the interview, Rippon explained:
I work with some other skaters as well when I have the time. It's something I enjoy doing a lot. Anything to stay on the ice. I can absolutely see this as my future full-time job. I love working with skaters and helping them achieve their goals. It's such a rewarding process to see a skater land a jump for the first time or skate to music they love and feel good about themselves.
Clearly, Rippon's love of figure skating will last the ages and he'll more than likely keep dazzling us even after the 2018 Winter Olympics come to a close.
Check out Romper's new video series, Romper's Doula Diaries:
Watch full episodes of Romper's Doula Diaries on Facebook Watch.