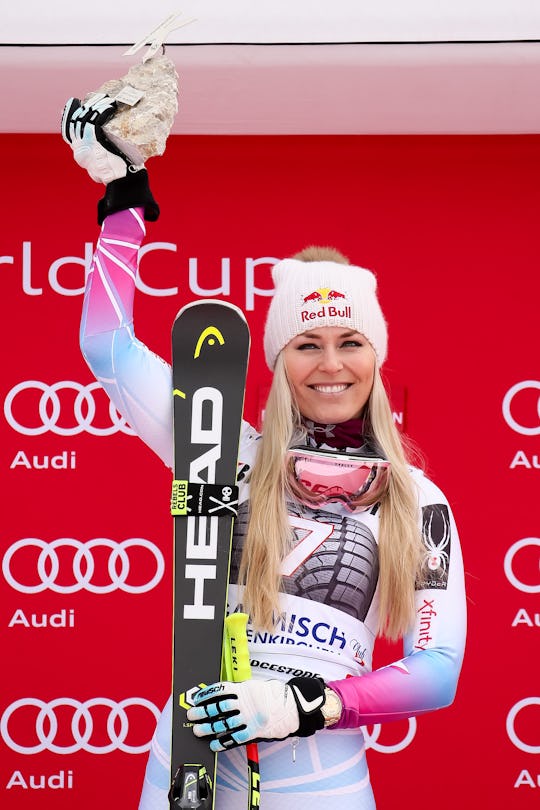 Millo Moravski/Agence Zoom/Getty Images Sport/Getty Images
11 Surprising Facts About Lindsey Vonn You Should Definitely Know
The 2018 Winter Games are likely going to be Lindsey Vonn's last Olympics, and she's definitely making it one to remember. But although her career has been decades long, there are still so many surprising facts about Lindsey Vonn that will make you love her even more than you already do right now.
You have to feel for Vonn, who tweeted her disappointment this weekend. "Frustrating to be so close to the podium and to have made such a big mistake...but that's ski racing. I'm proud of the way I skied and how I attacked the course," she wrote.
But, as always, she has a good attitude about it, at least. "I gave it my all and came up short. That's life. Now it's on to the Downhill," the 33-year-old skier added. Because this is the internet and people are generally awful, trolls on Twitter immediately attacked her for being so vulnerable. Since Vonn has been critical of President Trump and his administration this year, "Make America Great Again" types barraged her with insults, gloating about her big loss.
But Vonn kept her cool and defended herself, saying that she knows she's loved and "sleeps well at night," which is just the sort of thing a dedicated professional skier like herself would do. Although her being a badass is pretty much everything you need to know about her, here are some other things you might not know about Vonn.
1. She's Terrible At Other Sports
Vonn told Esquire in an interview that she's really bad at anything else, which is why she stuck to skiing. She told the publication:
I've been skiing since I was 13. It was the only thing that I was good at. Believe me, I tried a lot of other things, and I was very bad at all of them. Tennis was one of those things. Figure skating was one of those things. I tried gymnastics, too. I was actually not half bad at gymnastics; I was just way too tall.
2. Her Endorsements Can Definitely Pay Her Bills
According to the Heavy, she makes about a million dollars a year in endorsement deals alone. Right now she's the spokesperson for Under Armour, Red Bull, Beats by Dre, Rolex, Oakley, Hershey, Proctor & Gamble, and GoPro.
She's also been featured in Got Milk and Bounty Paper Towels commercials. Just last month, she shared a commercial that she shot for Bounty Paper Towels.
3. Her House Is Out-Of-Control Gorgeous
Vonn bought a five-bedroom home in Vail, Colorado in 2015 and it has everything an athlete needs, including a full gym, elevator, and a sound system that plays music in every single room if she wants, according to People. There's even custom doggy doors for her three pups to let themselves in and and out of the house.
4. Oh, Her Dogs Are Insta-Famous
She really loves her dogs Bear, Leo and Lucy. So much so, that they even have their own addictive Instagram account.
5. She Wants To Compete Against Men
Vonn told Esquire that she wishes the system were different so that she could compete against men, even though that's a pretty unpopular opinion. "I've accomplished a lot in women's ski racing, and competing with men is one thing that I've obviously never been able to do. It's something that no one's done. I like those kind of challenges, and so I really want to try to accomplish that before I retire," she told Esquire.
6. She Always Gets Back Up
Vonn famously missed the 2014 Olympics in Sochi due to a knee injury, but that's not the only time she's hurt herself doing what she loves. In 2006, she was airlifted out of the Turin Winter Games after crashing during her training, though she came back within days to finish competing, and ended up in eighth place. She's also broken her hands, disjointed her spine, and hurt her funny bone.
She told ELLE of the 2006 crash, "That [incident] changed my whole mindset of how much I appreciate what I do and understanding that it could be over at any minute. It gave me a different perspective on everything."
7. She Loves Law & Order, Too
She told Esquire that her ideal relaxing day involves eating frozen yogurt and watching Law & Order marathons, to which I say, same, girl, same. But she took her fandom to a whole extra level by starring in the Season 20 finale.
8. This Skier Hates The Cold
You'd think that a person would have to love the cold to be such a good skier, but that's not the case. In the same Esquire interview, she admitted that she loves being outside but not the low temps. "I hate the cold — but I also like the fresh feeling it gives you," she said.
9. Her Diet Sounds Delicious
According to Sports Illustrated, Vonn has a personal trainer to make sure she's getting everything she needs and his recipes sound delicious. Dan Churchill told Sports Illustrated, "My job is to not only put her in a position nutritionally, but also give her the head space. The moment she gets back from an event or off the mountain, when she's eating, it's her time just to be her."
10. She Won't Go To The White House
If she does win a medal and gets an invite to represent Team USA in Washington D.C., Vonn will not be going. She told CNN:
Absolutely not. No. But I have to win to be invited. No actually I think every US team member is invited so no I won't go. I want to represent our country well. I don't think that there are a lot of people currently in our government that do that.
11. She's Working On Her Legacy
In 2015, Vonn started the Lindsey Vonn Foundation which is all about empowering young women to compete. It runs ski camps and a speaker series, along with providing scholarships.
Check out Romper's new video series, Romper's Doula Diaries:
Watch full episodes of Romper's Doula Diaries on Facebook Watch.