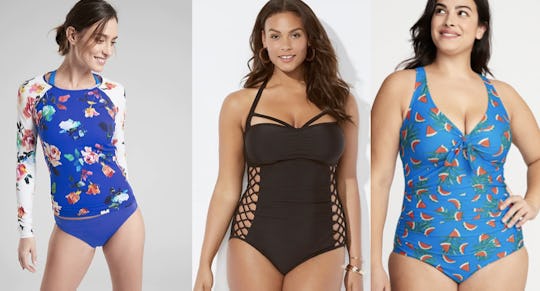 11 Cute Swimsuits That You Can Actually Wear & Still Play With Your Kids On The Beach
You haven't known embarrassment until you're wearing a string bikini at an incredibly crowded beach in East Hampton and your son unties the bottoms, exposing your vulva to anyone who happens to be looking in your direction. You thought pooping while giving birth was embarrassing? Try showing your elderly grandmother-in-law your lady garden. This is due to my own poor planning, and I resolved for it to never happen again, to any of us. That's why I've found these 11 swimsuits perfect for playing with your kids while keeping everything in its place.
One-pieces are huge this season, and with everyone from Madewell to J Crew releasing adorable versions of the classic, there are more options for stay-put swimwear than ever before. There is also a huge variety of high-waisted bottomed bikinis, tankinis that are actually cute, and surfing style rash guard suits that are now high fashion all on their own. There is no need to be uncomfortable or to risk exposing any of your bits that you don't want exposed when you're playing with your kids at the pool or beach. Obviously, prices on these suits run the gamut and can get really expensive, but most are reasonably affordable, and you can try them on in your own home.