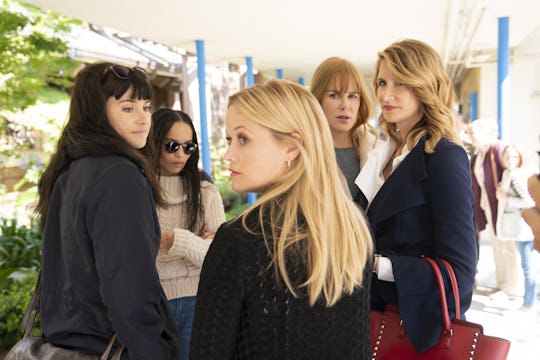 Jennifer Clasen/HBO
Anything Can Happen On Season 2 Of 'Big Little Lies'
When fans last saw the dynamic women of HBO's Big Little Lies, they were banding together to cover up the circumstances that led to Perry's death. The series is set to return on Jun. 9, and fans can't wait to see how these Monterey socialites deal with the aftermath. There's plenty of speculation about what will happen, but here are some of the best fan theories about Big Little Lies Season 2.
If fans remember, in Season 1, after realizing that Perry (Alexander Skarsgård) had been physically abusing Celeste (Nicole Kidman) and that he was the same man that raped Jane (Shailene Woodley), the group — including Madeline (Reese Witherspoon) and Renata (Laura Dern) — fights him off as he assaults Celeste. When Bonnie (Zoë Kravitz) sees what is happening, she runs in and pushes Perry, sending him down a flight of stairs to his death.
Upon police questioning, the women maintain that Perry tripped and fell down the stairs on his own. The cops seem suspicious of their account, but they don't pursue the case any further. In a trailer for the Season 3, you can see that Perry's mom has come to visit, and she's questioning how he actually died.
You can bet that the new season is going to be full of thrilling twists and turns, but here are some fan theories you can mull over in the meantime.