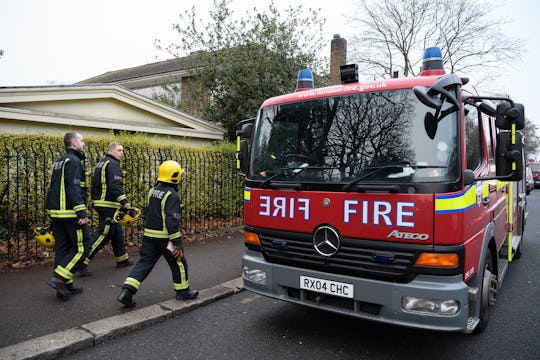 Leon Neal/Getty Images News/Getty Images
11 Things Firefighters Deperately Want Parents To Know About Fire Safety
Keeping your kid safe is a full-time job, and this is especially true when it comes to fire safety. As any parent knows, a kid left alone for two seconds can get into a world of trouble, and this goes double when fire is a possibility. Learning the things a firefighter wants you to know about fire safety can help keep your home and especially children free from harm.
Teaching fire safety from a young age is a crucial way to keep your entire family safe from tragedy. Maintaining your home, appliances, and electrical cords is one thing, but keeping your kids away from these dangers is a whole other story. Although most adults wouldn't think twice about electrical outlets or matchbooks, kids can be drawn to dangerous things with disastrous results. And if you have to ask why a child with loads of toys would decide to play with a book of matches instead, then you haven't met many toddlers. They're inexplicable little suckers.
To learn more about fire safety, Romper spoke with two longtime firefighters. William Wren, a firefighter with the New Hartford Fire Department in New York, has dedicated his life to educating others about fire safety. He received the National Volunteer Fire Council's 2017 Fire Prevention and Education Award. In addition, John M. Schlinger has worked as a volunteer firefighter for over 30 years. Both men provided excellent insight into home fire safety and keeping your kids safe.