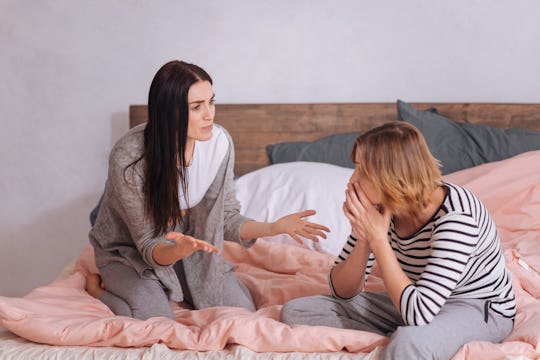 Dmytro Zinkevych/Shutterstock
11 Things That Happen When You Stop Having Sex
You probably remember the last time you went through a sexual dry spell. I certainly do. It lasted almost a year before I eventually met my current partner, and during that time I was constantly cranky and tense. Although masturbation can help during this time, people's moods change in unexpected ways when they suddenly stop having sex. In fact, there are many things that happen to your body when you suddenly stop having sex, and most of them aren't so pleasant.
People go through sexual ruts from time to time. Whether it happens because of a recent breakup or other aspects of your life have gotten in the way, a few sexless weeks can turn into months and, before you know it, you almost don't even miss sex anymore. The same, however, can't be said for your body. According to YourTango, your body can have very real (and sometimes really intense) reactions when you stop having sex.
From catching the flu more often than before, to stranger dreams, to really awful period cramps, not having sex for a while can seriously impact your wellbeing. Here are 11 unexpected ways that your body actually changes when you suddenly stop having sex.